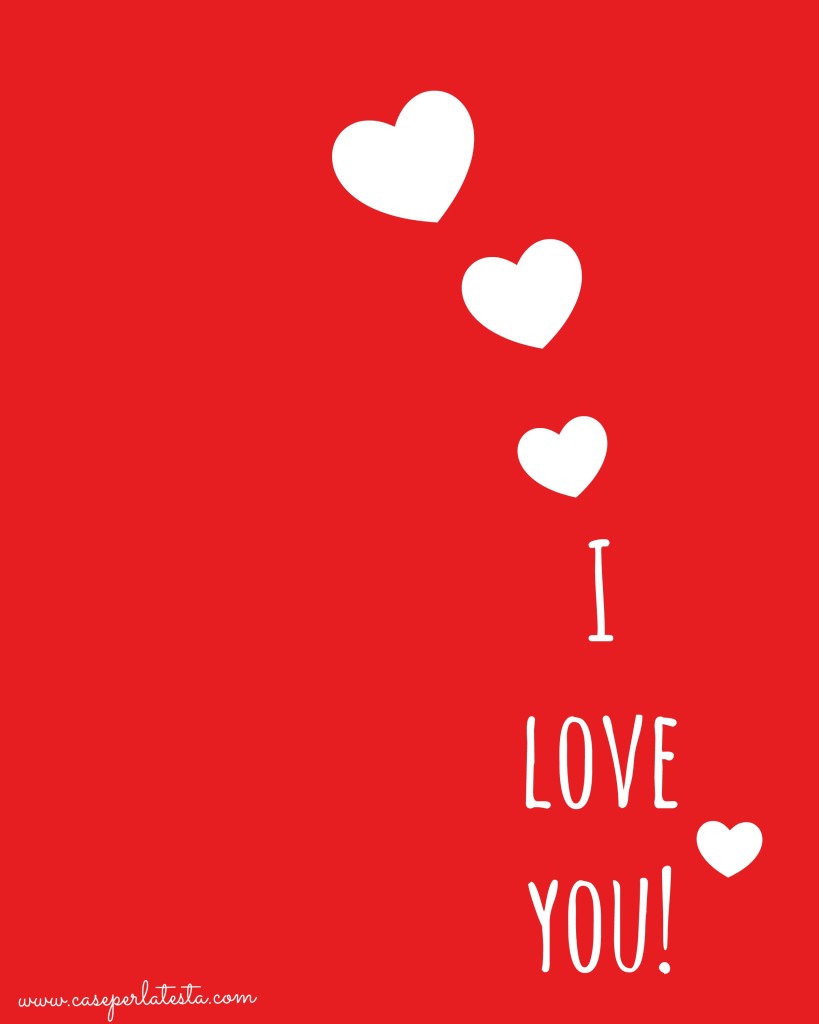 Heilà! sembra strano anche a me, ma quest'anno sono ossessionata da San Valentino, sarà che la speranza è l'ultima a morire e ancora mi illudo che magari il caro ragazzo si inventi qualcosa, quest'anno…
Oggi pensavo a come fare un biglietto o addirittura un poster per il caro ragazzo e dopo molti tentativi sono arrivata a questo qui sopra, che condivido con voi.
Il formato è di circa 20×17 cm, così come l'ho disegnato, però potete stamparlo come volete e usarlo come biglietto (basta scrivere con una matita bianca qualche frase più o meno sdolcinata… si anche quella da trucco va benone, magari è un po' appiccicosa) oppure stamparlo su cartoncino o carta fotografica e farne un quadro.
Che ne dite, vi piace? il link  per scaricarlo:    San Valentino in rosso
E come prenderlo/a per la gola? ehh lo so a volte si farebbe realmente, non figurato… comunque qui abbiamo messo a punto un menù superveloce  per deliziarlo/deliziarci!
Un regalino? siii, magari! ecco un post con  tante idee low cost per tutti, e tutte sotto i 5€!
Hey there! it seems strange to me, but this year I'm a little  obsessed with Valentine's Day,  maybe because  I flatter myself that maybe the dear boy will  invent something, this year … naaaa!!

Today I was thinking about how to make a card or even a poster for the dear boy, and after many attempts I came to this  one above, that I share with you.
The size is about 20×17 cm (8×7 inc), as I designed it, but you can print it out as you want and use it as a Valentine's card (with a white pencil just write a few sentences more or less sloppy … ) or print it on card stock or photo paper and make it into a painting.
What do you think, do you likeit ? download link: Valentine's card in Red
Any idea for a quick romantic dinner? Here!
Do you need an idea for a little cozy gift? in this post we have a nice round up: all under 5€!
Con questo post partecipo al link party di Alex!
Salva