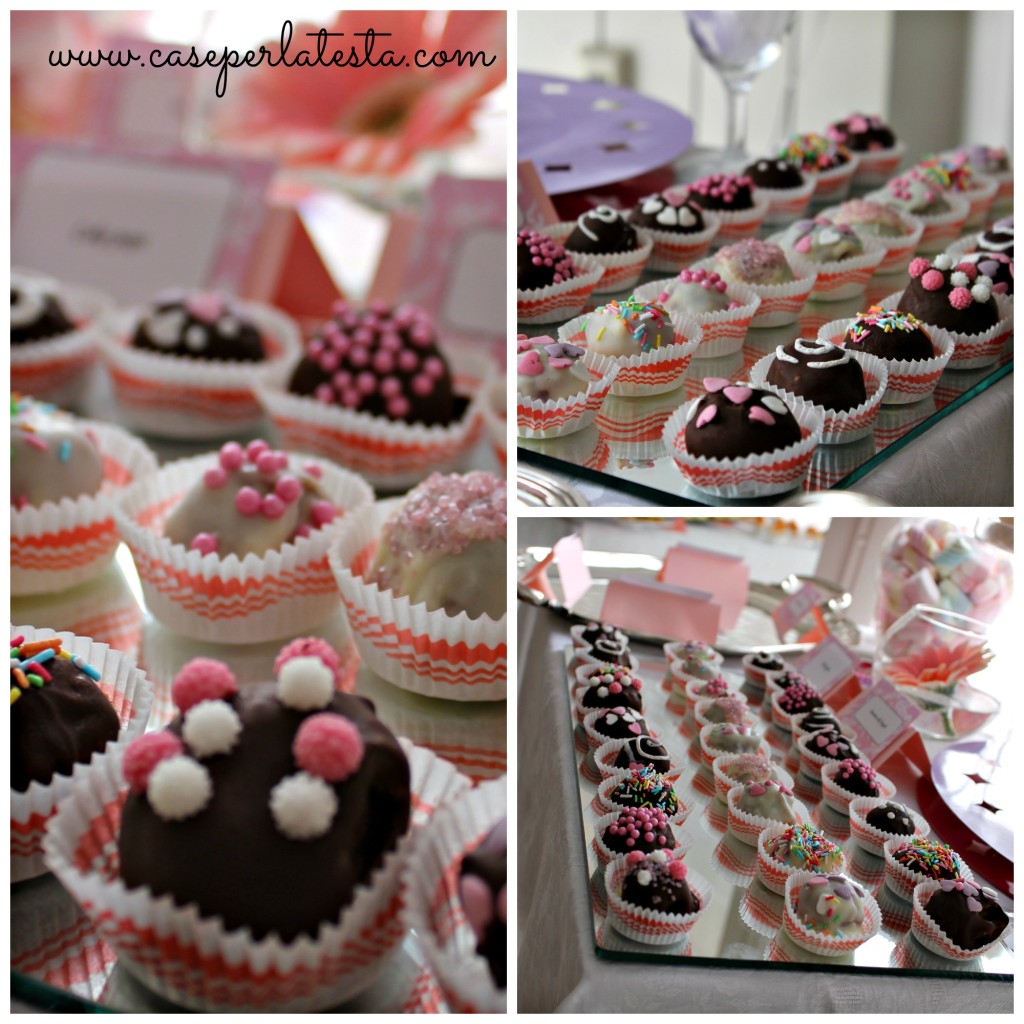 Ho scoperto come fare dei dolcetti che più facili di così … e che hanno una gran resa.
Ehhh lo so, potrebbero sembrare dei cake pops, ma diciamocelo, non avevo gli stecchini! quindi sono diventati dei pasticcini e hanno fatto furore!
è complicatissimo farli (noooooo!! è facilissimo), l'ingrediente principale è la FANTASIA! oltre che i decori per dolci che si riescono a trovare!
I've just discovered how to make little cakes so easy and yummy: cake pops! Here in Italy we don't have any tradition of cake pops, but now it's starting and it's raging! When I prepared these sweets I wasn't able to find sticks to put them on and so I've changed my mind and decided to prepare some cake pops – pretending- to be pastries!
Pronte per questa delizia?
ho usato per ottenere circa 20 dolcetti (ehm, forse un po' di più ma li abbiamo assaggiati man mano, per puro fine scientifico, s'intende, dovevamo pur ben vedere se erano edibili o no, no?!):
2 confezioni di plum cake del Mulinobianco
4 cucchiaiate di marmellata di albicocca (forse il nome esatto è composta di frutta, comunque è della Rigoni di Asiago  ed è b u o n i s s i m a)
5 cucchiai di Nutella  (esiste qualcosa che riesca più in fretta della Nutella a tirarmi su? bah non so, forse una buona dose di iperico, ma vuoi mettere!?!?!?)
3 cucchai di panna
Tutto qui!
la regola è: sbriciola i plumcake con le mani -molto divertente- in una ciotola grande, poi suddividi le briciole in due parti: in una mescola la marmellata, nell'altra la Nutella. La panna serve a rendere più lavorabile l'impasto, specialmente quello con la Nutella. La dose di 3 cucchiai è indicativa. Devi ottenere un composto denso e non troppo appiccicoso con cui fare delle palline della grandezza di una noce grande (diametro 2,5 cm).
Il più è fatto.
Making them is complicated ( noooooo!) , the main ingredient is IMAGINATION ! in addition to any cake decorations, toppers, sugar decor that you can find !
Ready for this delicacy ?
I prepared about 20 cupcakes with (ahem , perhaps a little more, but I have to taste them, for pure scientifical  aim , of course , I had to see if they were edible or not , well… they were! ):
2 packs of plum cake of Mulino bianco (a famous italian brand)
4 tablespoons of apricot jam (Rigoni di Asiago and is very good)
5 tablespoons of Nutella ( I think is a treat word wide known and by the way is there anything as fast as Nutella to cheer me up ? Bah I don't know , maybe a good pampering day at spa, but Nutella is quicker! )
3 tablespoons of cream
That's it !
What to do: crumble the plumcake with hands (very funny) in a large bowl , then divide up the crumbs into two parts: mix part with jam, Nutella in the other . The cream is used to make the dough more workable , especially the one with the Nutella . The dose of 3 tablespoons is indicative. You have to  obtain a thick and not too sticky dough with which make balls the size of a walnut large (diameter 2.5 cm).
The worst is over.
Basta sciogliere a bagno maria una tavoletta di cioccolato bianco e in un altro pentolino (o dopo, of course) una di cioccolato amaro e tuffarci dentro le palline. Poi le fai asciugare sulla carta da forno e fin che il cioccolato è morbido sbizzarrisci la fantasia con i decori (codetta, smarties, glassa al cioccolato, zuccherini, ostia…). Tutto qui.
In realtà c'è ancora un trucco… ve lo dico perchè mi siete simpatiche:
Prima di tuffare le palline nel cioccolato le ho messe per circa 15 minuti nel freezer… era facilissimo mantenere la rotondità e tirarle fuori dal cioccolato belle tonde e luccicanti di cioccolato!!
enjoy!
Then just melt in a bain marie a bitter chocolate tablet and a white chocolate one and dive in the balls of dough. Then let them dry on the parchment paper and since that chocolate is soft indulge the imagination with the decorations (sugar tang , smarties , chocolate icing , sprinkles , wafer … ). That's it.
In fact there is still a trick … Before dipping  balls in chocolate I put them in the freezer for about 15 minutes … it was easy to keep the roundness and pull them out of the chocolate and the cover in chocolate remains beautifully shiny!
Enjoy!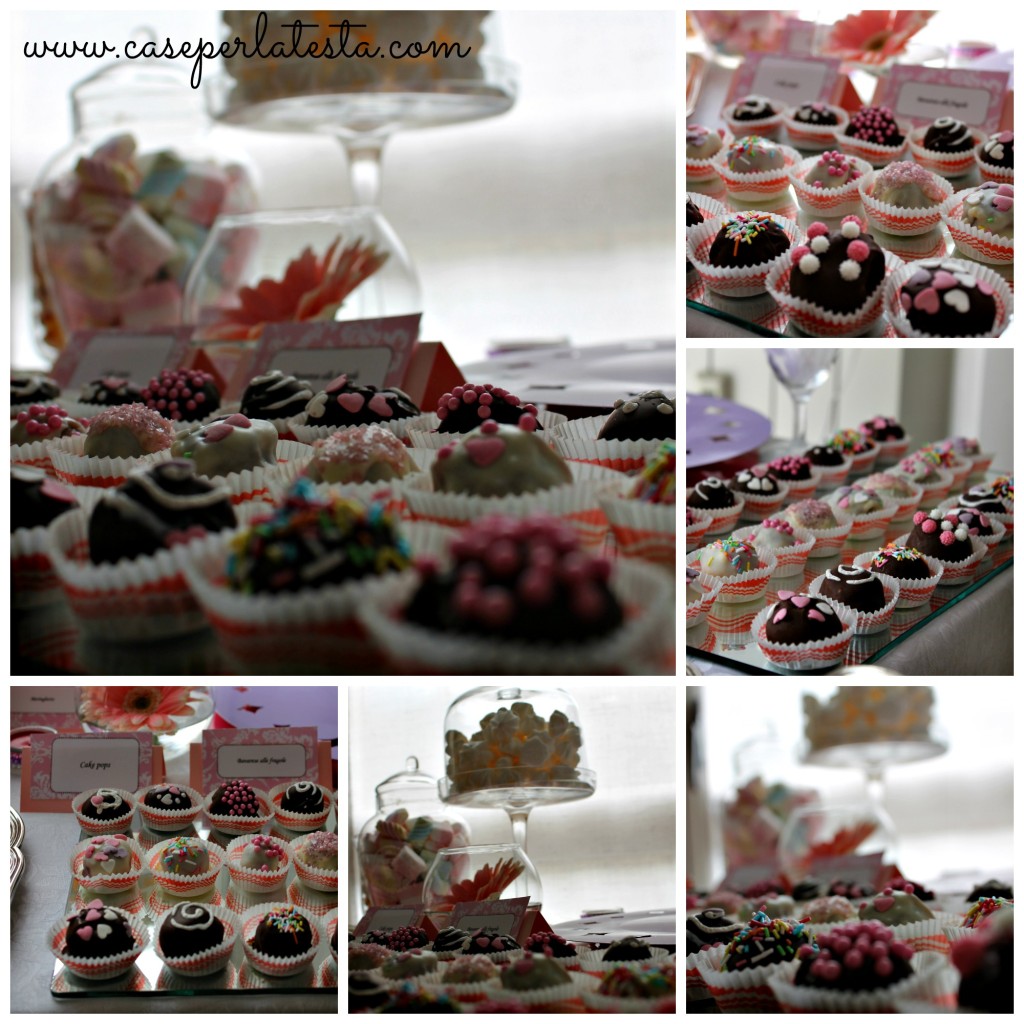 We're linky at: