Oggi vi voglio presentare un'idea che mi frullava per la testa dall'anno scorso… Avevo visto in un  negozio una coroncina natalizia rivestita di perle che mi piaceva tantissimo, prezzo €35,00 Ehhh?? Troppo! Mi ero data come impegno per quest'anno di farne una simile e che costasse meno della metà: impegno assolto!
Today I  present an idea that mumbled in my head since last year … I saw in a shop a Christmas wreath covered with pearls which I liked a lot, price € 35.00 Ehhh ? Too much! I was given as a commitment this year to make a similar and cost less than half that: now commitment acquitted !
Ho dovuto cercare a lungo ma alla fine ho trovato l'ingrediente principale: perle di un bel colore, di differenti diametri. Ho acquistato una confezione di perle di varie dimensioni a € 7,00 e una base in polistirolo a forma di corona per € 1,25 e ho trovato nel mio cestino dei nastri uno perfetto per quello che volevo fare.
I had to search a long time but I finally found the main ingredient: pearl of a beautiful color, of different diameters. I bought a pack of beads of various sizes at € 7.00 and a polystyrene base in the shape of a crown for € 1.25 and I found a tape in my basket perfect for what I wanted to do.
Con la pistola per colla a caldo ho iniziato a incollare alcune perle più grandi, e poi via via ho arricchito la corona con quelle di diametro più piccolo e per completare ho fissato un nastro di seta bianco per appenderla.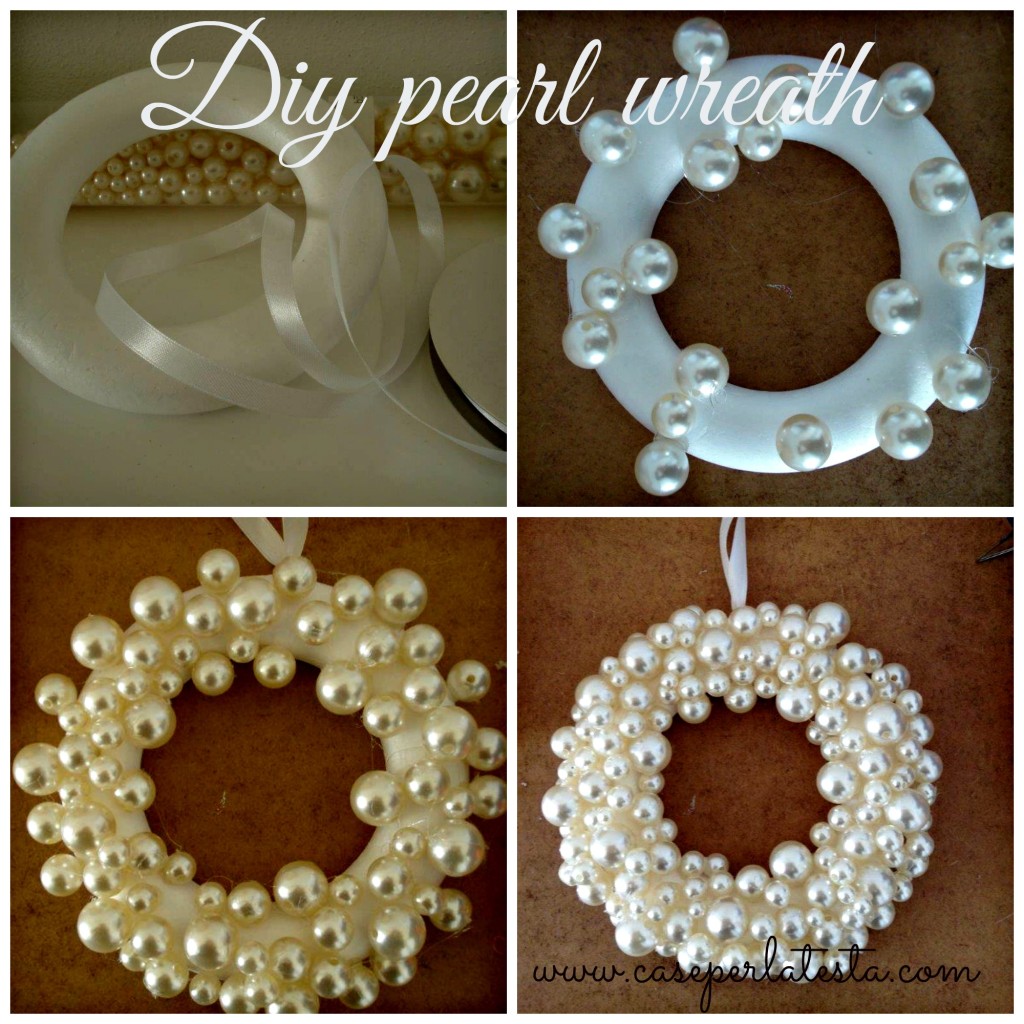 Che ne pensate? La mia corona nataliza  di perle è costata meno di 10,00€ (e  qualche bruciatura con la colla a caldo!) ma la resa è meravigliosa! Nella foto qui sotto la vedete sull'albero, insieme a degli angioletti di perline (il tutorial per farli è qui), a palline decorate con cristalli (tutorial qui)  e a decorazioni in carta e perle (il tutorial lo sto facendo!),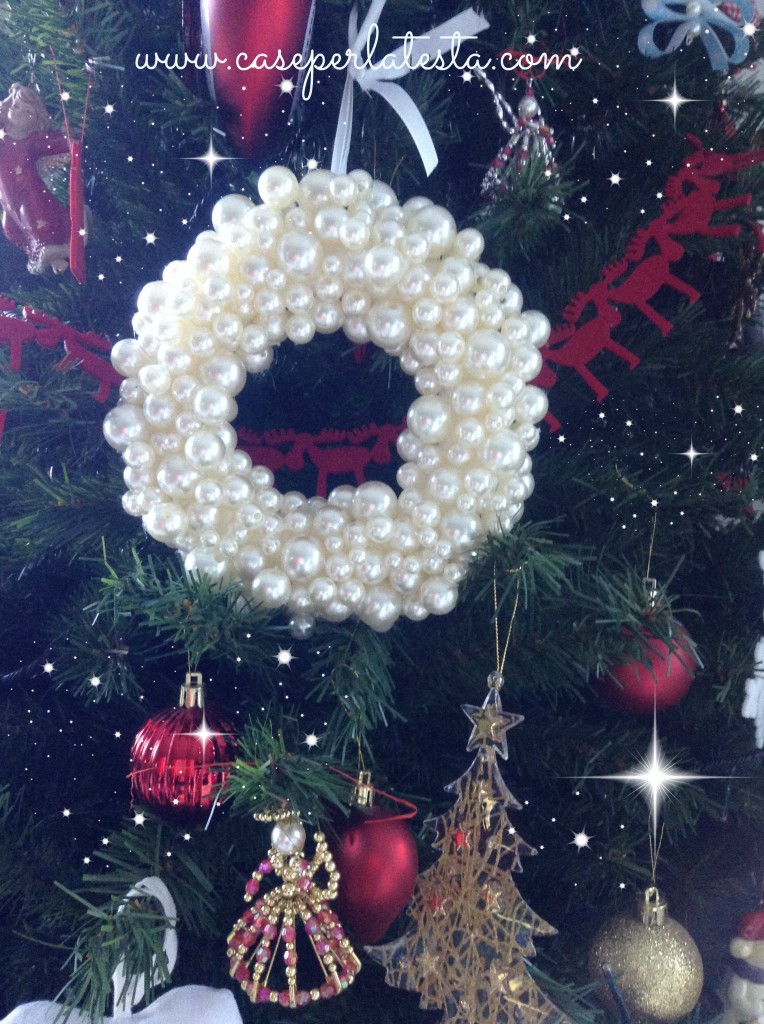 With the hot glue gun I started to glue some larger pearls , and then gradually I enriched the crown with those of smaller diameter and  completed it with  a white silk ribbon for hanging. In the photo above, you can see the wreath on my tree, and also some beaded angles (tutorial here), balls with crystals (tutorial here) and some decoration with paper and pearls (tutorial soon!).
What do you think ? My Christmas wreath of pearls has cost me less than € 10.00 (and some burn with the hot glue, too!) But the yield is wonderful !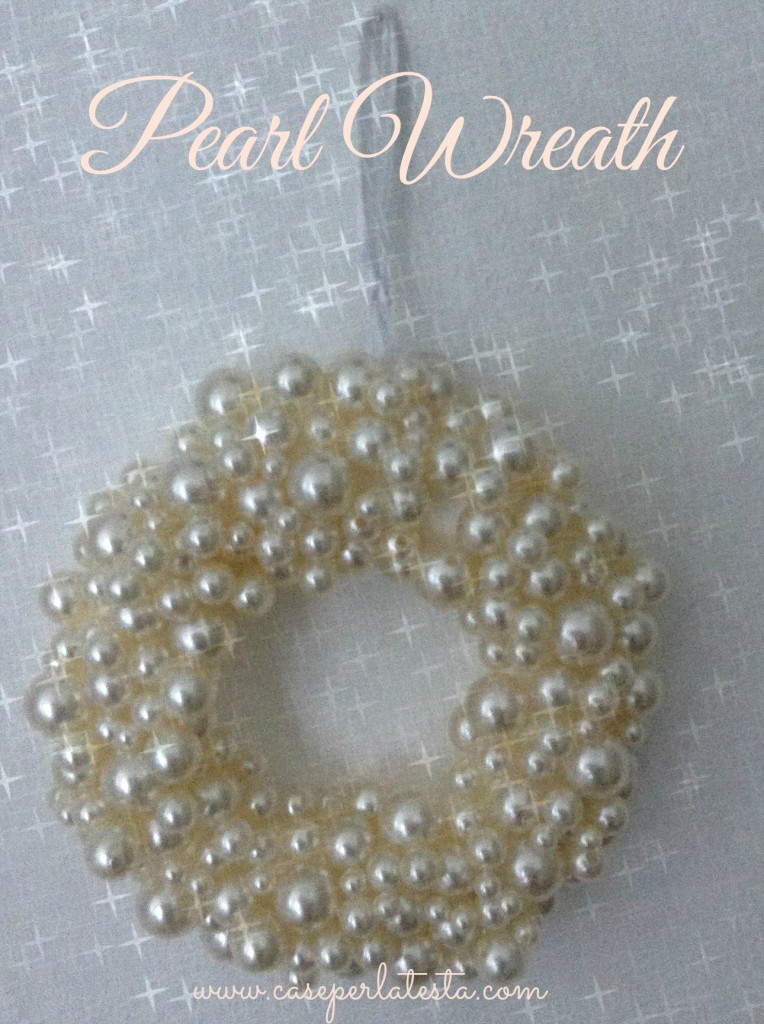 I join Marcela's Finde Frugal each friday!
Salva