Non so voi ma io adoro la lavanda. Sarà perché  mi ricorda il profumo che aleggiava sempre intorno a mia nonna oppure perché il blu dei suoi fiori sa proprio d'estate…
Comunque sia, se c'è una pianta che posso impegnarmi a coltivare (ed è noto che riesco a far morire anche le piante grasse…) è proprio la lavanda. Gli usi poi che se ne possono fare sono infiniti o quasi…
I don't know about you, but I love  lavender. Maybe because it reminds me of the scent that always hovered around my grandmother or because the blue of its flowers reminds me of summer  heat…
However, if there is a plant that I can commit myself to grow (and it is well known that I can slay even the cacti …) is just the lavender. The uses  are almost endless ..
Scommettiamo?
 – per un bagno rilassante mettere un sacchetto di fiori secchi sotto il getto caldo dell acqua: relax assicurato. In mancanza di fiori, 10 gocce di essenza vanno benone!
 – For a relaxing bath put a bag of dried flowers under the spray of hot water: relaxation assured. In the absence of flowers, 10 drops of essence be fine! 
– per i sali da bagno profumati: in questo post la ricetta! è stato un regalo di Natale molto gradito!
– scented bath salts: in this post the recipe! it was a very welcomed Christmas gift!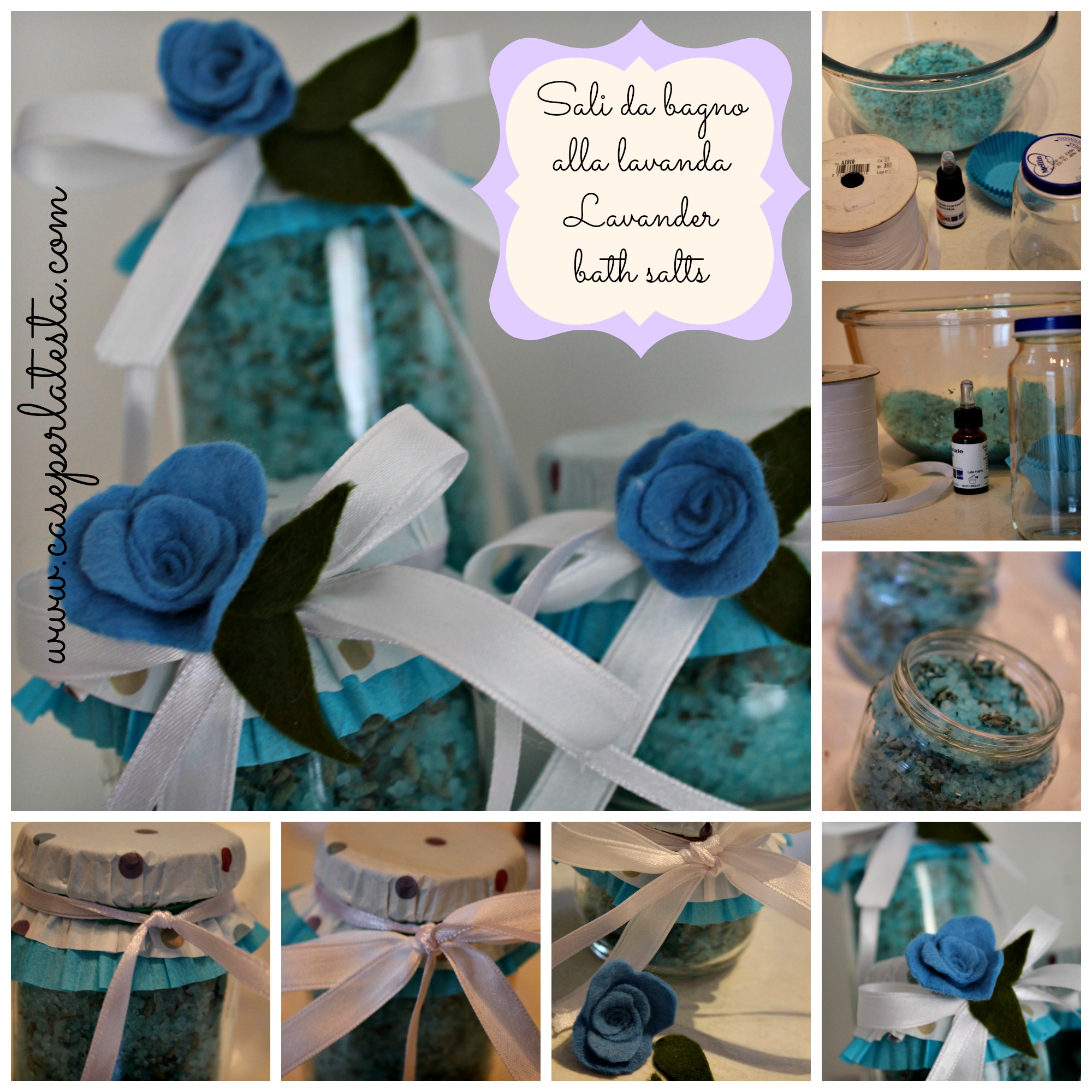 – saponette alla lavanda: grattugiate una saponetta di Marsiglia senza profumo o un sapone di Aleppo. Far sciogliere a bagno maria e aggiungere i fiori secchi di lavanda e qualche goccia di olio essenziale;
– lavender soap: grate a bar of soap without perfume or Marseille or soap of Aleppo. Melt in a double boiler and add dried flowers of lavender and a few drops of essential oil; 
– candele profumate: far sciogliere della cera vergine e aggiungere fiori secchi ed essenza di lavanda, colare in bicchieri di vetro aggiungendo lo stoppino;
– scented candles: melt beeswax and add dried flowers and lavender essence, pour into glasses, adding the wick
– sacchetti profuma biancheria : io aggiungo sempre qualche goccia di essenza ai fiori secchi;
– scented linen bags: I always add a few drops of essence to  dried flowers;
– segreto di mia nonna: portava un piccolo sacchetto in cotone  pieno di fiori di lavanda essiccati appuntati al reggiseno e profumava tutto il giorno. Il calore corporeo infatti amplifica  piacevolmente il profumo!
– Granny's secret: she always wore a small cotton bag filled with dried lavender flowers pinned to the bra and smelled good all day. The body heat,  in fact, amplifiesnicely the scent! 
– per il mal di testa (si si, funziona!): annusare l'olio essenziale  e massaggiarne qualche goccia sulle tempie;
– for the headache (yeah, it works!): Smell the essential oil and and massage few drops on  temples; 
– come tisana rilassante:  versare acqua calda non bollente sui  fiori di lavanda essiccati (a volte unisco anche dei fiori di camomilla), lasciare riposare e dolcificare con miele di tiglio e qualche goccia di limone biologico: nanna assicurata!
– As a relaxing herbal tea: pour hot water on dried lavender flowers (sometimes also join chamomile flowers), let it sit and sweeten with honey  and a few drops of organic lemon: a good night rest guaranteed!
– per le scottature da sole: vaporizzare (con uno spruzzino) acqua ghiacciata e qualche goccia di olio essenziale, il sollievo è immediato;
– for sunburn: spray (with a spray bottle) ice water and a few drops of essential oil, the relief is immediate; 
– per profumare gli ambienti: in uno spruzzino unire circa 200 ml di acqua, 4 gocce di essenza di lavanda, 2 di tea tree e 4 di menta piperita;
– to perfume rooms: in a spray bottle combine about 200 ml of water, 4 drops of essence of lavender, 2 of tea tree  and 4 of peppermint
– per le punture di zanzara: una goccia sul ponfo riduce il gonfiore e da immediato sollievo dal prurito;
– for mosquito bites: a drop on the wheal reduces swelling and immediate relief from itching
– in cucina: aggiungere una manciata di fiori freschi (biologici) in una bottiglietta di aceto di mele: profumo e colore a volontà!
– in the kitchen, add a handful of fresh flowers (organic) in a bottle of apple cider vinegar: scent and color as you like!
– per i massaggi: lasciar macerare una manciata di fiori in circa 100 ml di olio di oliva (anche l'olio di mandorle dolci è perfetto). Riporre al buio e al fresco e dimenticarsene per 1 mese. Si ottiene un ottimo e profumatissimo olio perfetto per i massaggi;
– for massage: let soak a handful of flowers in about 100 ml of olive oil (sweet almond oil is also perfect). Store in a cool dark place and forget about it for 1 month. You get an excellent and fragrant massage;
– per pulire i tappeti: miscelare una tazza di bicarbonato di soda con 8-10 gocce di olio essenziale di lavanda; spargere sul tappeto e lasciare agire per un'oretta, poi aspirare via;
– to clean the carpets: mix a cup of baking soda with 8-10 drops of lavender essential oil; sprinkle on the carpet and leave for an hour, then vacuum away;
– per sonni tranquilli: una goccia di olio essenziale  sul cuscino fa fare sonni tranquilli! A Miss B massaggio una goccia di olio essenziale sui piedini prima della nanna: si rilassa e associa al profumo di lavanda calma e riposo.
– for soundly: one drop of essential oil on your pillow does make soundly! I massage a  drop of essential oil on Miss B's feet before bed time: it  relaxes her and she associates  the scent of lavender with calm and rest.
Avete qualche suggerimento sugli usi della lavanda? Do you have any suggestions on uses of lavender?
(image credit the key visual)
Attenzione: non sono un medico e non ho alcuna preparazione in tal senso! quindi quello che per me va bene, potrebbe non essere lo stesso per altre persone. Quanto ho raccolto in questo post è la mia esperienza diretta: fatene buon uso! Warning: I am not a doctor and I do not have any preparation to do so! so what's fine for me,  may not be the same for other people. What I have gathered in this post is my direct experience: make good and wise use of it!