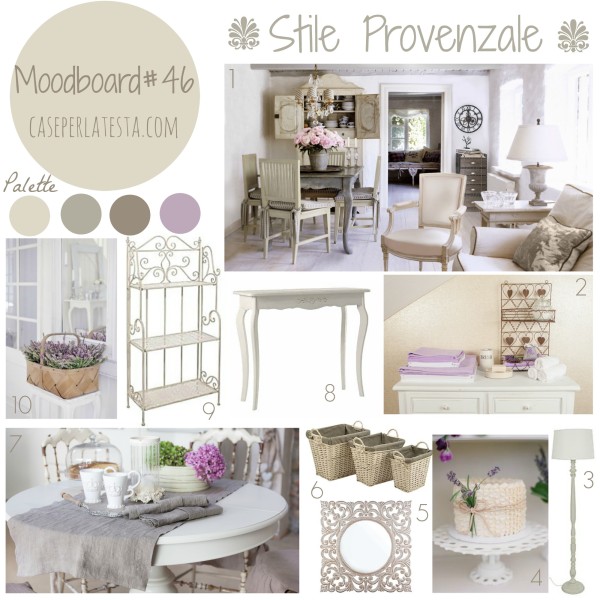 1 – 2 – 3 – 4 – 5 – 6 – 7 – 8 – 9 – 10
Oh la la la la! Et voilà la primavera è arrivata! In questo momento ho solo voglia di cose belle, colori chiari e avvolgenti e dettagli eleganti per la mia casa: qualcosa di fresco e luminoso. Mentre mi canticchio "La vie en rose", con grande piacere di chi mi sta intorno visto che non sono proprio un'ugola d'oro, guardo con occhio critico  gli ambienti e sogno un viaggio in Provenza: cosa meglio dello Stile Provenzale esprime la primavera?  Distese di lavanda, case in pietra chiara, romantici caffè dove sedersi ad oziare cullati dai profumi e colori che ci avvolgono, pervasi dal senso di leggerezza. Il viaggio in Provenza per ora rimane un sogno, ma mi consolo con la mia moodboard in Stile Provenzale; la palette passa dall'avorio al beige, al grigio tortora, tutti toni neutri, fino all'immancabile lavanda, una  gamma di colori elegantissima e sofisticata. Amate anche voi questo stile e siete in cerca di ispirazioni per la vostra casa? Vi consiglio di leggere le interessantissime proposte dell'ufficio stile di Dalani, all'interno del loro magazine: l'articolo "5 tocchi in Stile Provenzale" illustra efficacemente i caratteri distintivi di questo mood fornendo consigli su materiali, colori, complementi per farlo vivere nelle vostre case. Lo Stile Provenzale non fa per voi? Nessun problema, all'interno del magazine Dalani trovate tantissime idee e ispirazioni per rendere casa vostro lo specchio del vostro essere.

Oh la la la la!
Et voila spring has arrived!
Right now I just want beautiful things, clear and warm colors and elegant details for my house: something fresh and bright.
While I hum "
La vie en rose
", with great pleasure of those around me since I'm not really a great singer, I look critically at the interiors around me and a dream trip to Provence: what better expresses springtime than the Provencal Style
? Fields and fields
 of lavender, pale stone houses, romantic cafes to sit lounging lulled by the scents and colors that surround us, pervaded by a sense of lightness.
The trip to Provence for now remains a dream, but I console myself with my moodboard in Provencal style;
The palette goes from ivory to beige, light gray, all neutral tones, and the inevitable lavender, so elegant and sophisticated. Do
you love too this style and are you looking for inspirations for your home?
I suggest you to read the very interesting Dalani style office proposals, within their magazine: the article "
5 touches in Provencal style
" vividly illustrates the distinctive characteristics of this mood by providing advice on materials, colors, accessories to make it live
in your homes.
The Provencal style is not for you?
No problem, in the Dalani magazine you'll find lots of ideas and inspirations to make your home the mirror of your being.
Photo credits : Living4Media

Salva