Ma lo sapete che mancano 37 giorni a Natale? Solo?!? 37 days till Christmas: soo few!
Oggi vi faccio vedere uno dei calendari dell'Avvento che ho preparato, fatto su un tronco di legno di ulivo del mio uliveto e utilizzando la vernice lavagna. Today I'll show you one of the Advent Calendar I've prepared: made with an olive wood slice  and painted with chalboard paint.
Ammetto che il risultato finale è un po'… rustico per i miei gusti e infatti ho preparato questo calendario dell'Avvento per una mia cara amica che vorrebbe vivere  in una capanna di tronchi e avere il cavallo a fianco al letto! The final result is a bit rustic for my taste, but this DIY Advent calendar will be a present for a dear friend who would love to live in a log  cabinet with her horse beside her bed!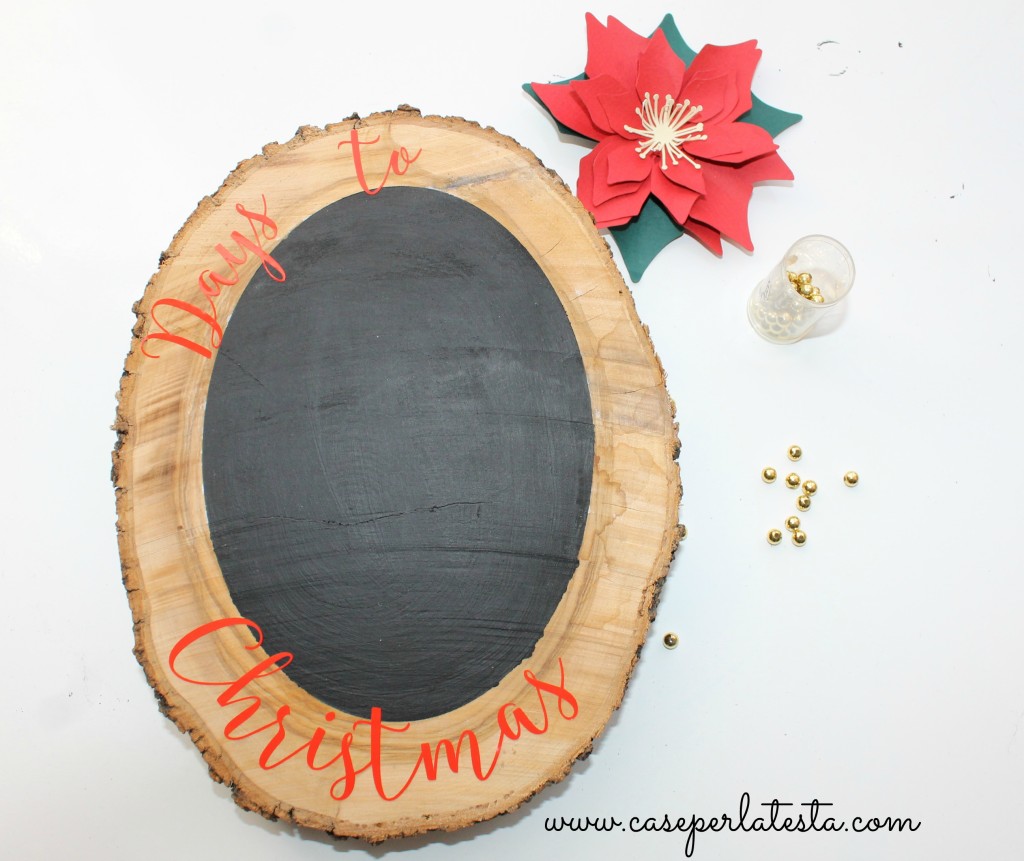 Per ottenere la forma ovale da dipingere con la vernice lavagna ho ritagliato la forma in un cartonicino, ho spruzzato della colla spray e l'ho applicata sul tronco. Per essere sicura che aderisse bene ho passato sul cartoncino il ferro da stiro molto caldo, senza vapore. Ho poi dato due mani di vernice lavagna sul legno.  To get the oval to be painted with chalkboard paint I cut the shape in a cardboard, I sprayed glue  and I applied it on the log. To be sure that adhered well I pressed cardboard with  iron very hot, without steam. I then given two coats of paint on the wood slice.
Ho poi disegnato la scritta e l'ho ritaglita utilizzando la mia amata Silhouette, ma può essere ritagliata anche  con delle forbicine da ricamo e il taglierino e l'ho applicata sul legno utilizzando della colla non vinilica, che farebbe arricciare la carta, ma tipo attaccatutto. Anche qui, per essere sicura della buona presa, dopo una decina di minuti ho passato il ferro da stiro caldo senza vapore. I then drew the writing and cut it with my beloved Silhouette but it can be cutted  with embroidery scissors and a cutter and I applied it on the wood strong glue , using the glue vinyl would curl the paper.  Here also, to be sure of good grip, after about ten minutes I pressed ti with hot iron without steam.
Il tocco finale  è la stella di Natale di carta  che ho disegnato e ritagliato dal cartoncino colorato. Prometto che a breve farò un post  specifico sulle mie  stelle di natale di carta, che sono bellissime! The final touch is the paper  poinsettia that I drew and cut out of colored cardboard. I promise that soon I will make a specific post on my paper poinsettia, which are beautiful!
Allegato trovate: il pdf con le sagome dell'ovale e la scritta, sia curvata che piana e il file svg.
Here you find: pdf file with the oval and the writing, curved and plain and svg file.
Salva