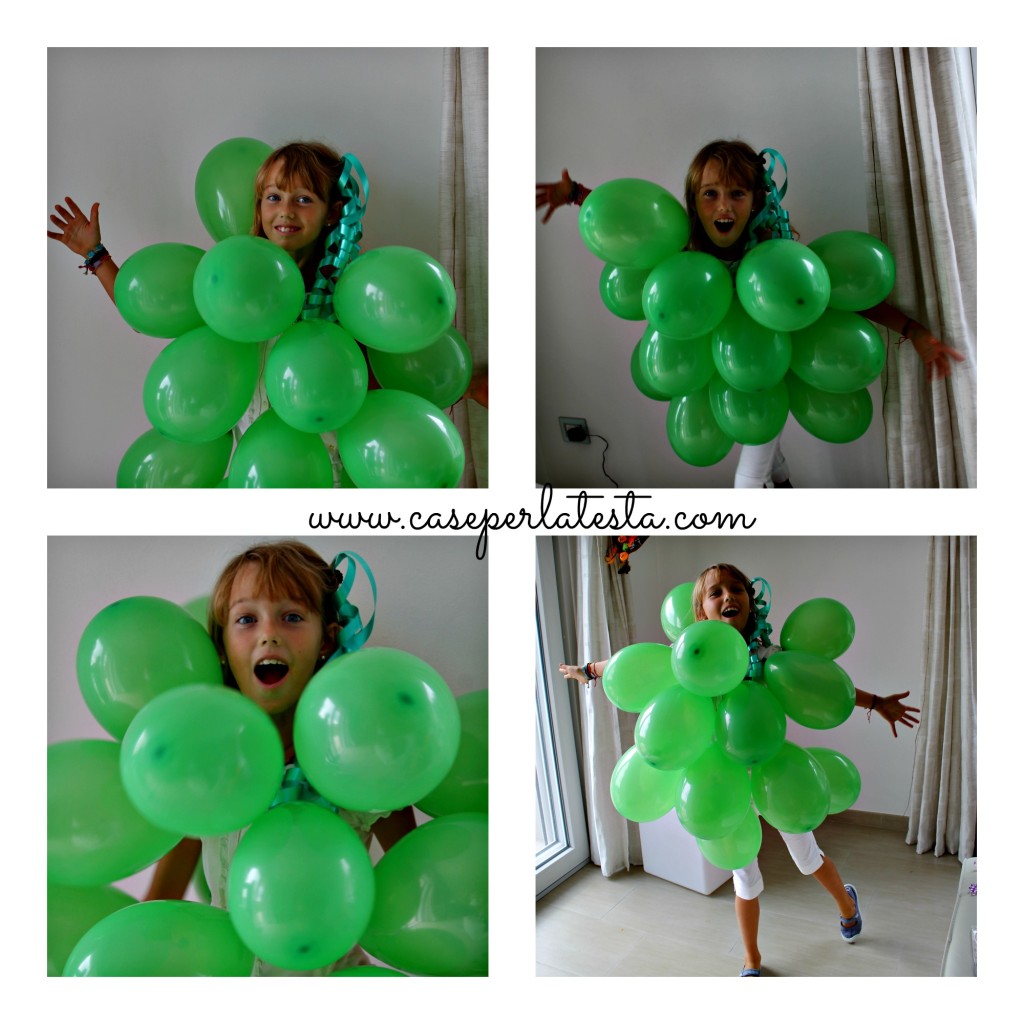 Questo costume da Halloween da grappolo d'uva  è l'ultimo che vi propongo, da fare all'ultimo minuto, in fretta in fretta! Le altre proposte le trovate qui e qui.
Vista la stagione l'uva è perfetta per questo costume di Halloween fai da te. E' un'idea a bassissimo costo, visto che si tratta solo di palloncini colorati… ho trovato un sacchetto di palloncini verdi a 1€, le spille da balia le avevo già (raccolgo sempre quelle che usano per attaccare le etichette ai vestiti nuovi).
Cosa serve:
* palloncini colorati: verdi, gialli o viola a seconda del tipo di uva che volete fare
* spille da balia
* un nastro colorato in tinta con i palloncini e una forcina per capelli
Come fare:
– gonfiare i palloncini usando, a meno che non abbiate polmoni da apneista, una pompa a mano: ne serviranno tanti quanto è grande il bambino.
– infilare la spilla da balia all'estremità del palloncino, nella gomma, e applicare agli abiti.
– arricciare il nastro, fissarlo alla forcina e mettere tra i capelli.
Finito!
Tempo necessario? Circa 10 minuti!
Questo post partecipa a:
This Halloween costume from a bunch of grapes is the last that I propose , to do the last minute , hurry hurry ! Other proposals can be found here and here.
Given the season the grapes are perfect for this Halloween costume DIY . It ' an idea at a very low cost , since it is just colored balloons … I found a bag of green balloons to 1 € , safety pins I had already ( always pick the ones they use to attach the labels to new clothes ) .
What you need :
* Balloons colored: green, yellow or purple , depending on the type of grape you want to do
* Safety pins
* A matching colored ribbon with balloons and a hairpin
How-to:
– Inflate the balloons using , unless you do not have lungs by freediver , a hand pump : it will serve many how big the baby.
– Insert the safety pin at the end of the balloon, rubber, and apply to clothing .
– Curl the ribbon , attach it to the hairpin and put in your hair .
Finished!
Time needed ? About 10 minutes !
This post is participating in :
Salva