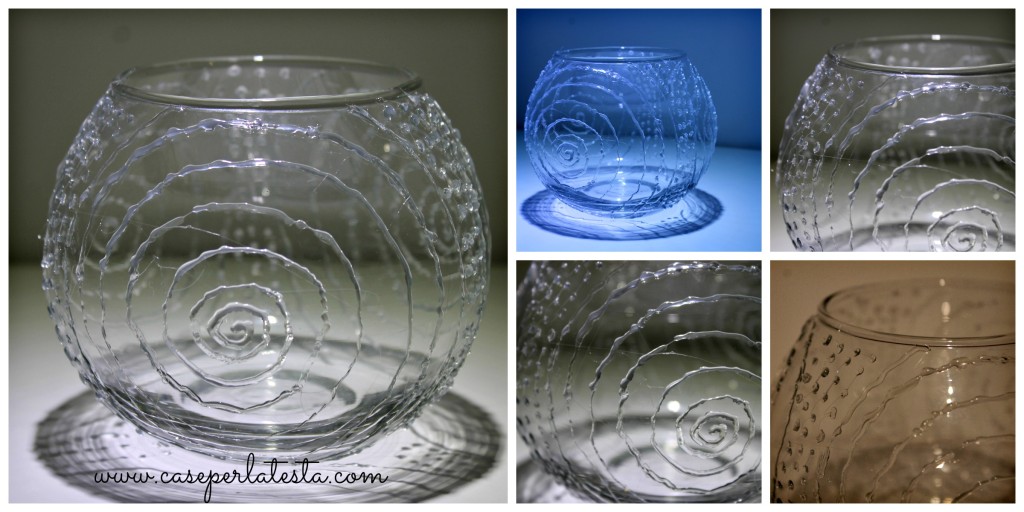 Qualche giorno fa stavo oziosamente sfogliando un libro di vetri romani, dell'epoca imperiale, per essere precisa. Che perfezione! Bellissimi!
A few days ago, I was idly leafing through a book of Roman glasses, imperial era, to be precise . What a perfection! Beautiful!
E mi è quindi tornato in mente che avevo acquistato in un grande magazzino uno stock di vasetti di vetro in saldo di cui avevo notato la forma leggermente panciuta. Riguardandoli, ho pensato che volevo provare a decorare un vaso di vetro con la colla a caldo e poi colorarlo con la bomboletta spray, ho visto delle bellissime realizzazioni fatte in questo modo. Mi sono quindi armata di pistola per colla a caldo e di un vasetto e ho iniziato a disegnare delle forme semplici: spirali e puntini. Il risultato che ho ottenuto mi è davvero piaciuto molto, un po' primitivo, forse, ma il bello è proprio questo. Dopo essermi consultata con mio marito e con Miss B, mia figlia di 7 mesi (!!), ho deciso che il vaso di vetro decorato con la colla a caldo aveva più carattere così, senza alcun colore: la colla suggeriva l'impressione di un vaso di vetro prezioso, con rialzi in vetro, di quelli fatte a mano da maestri vasai…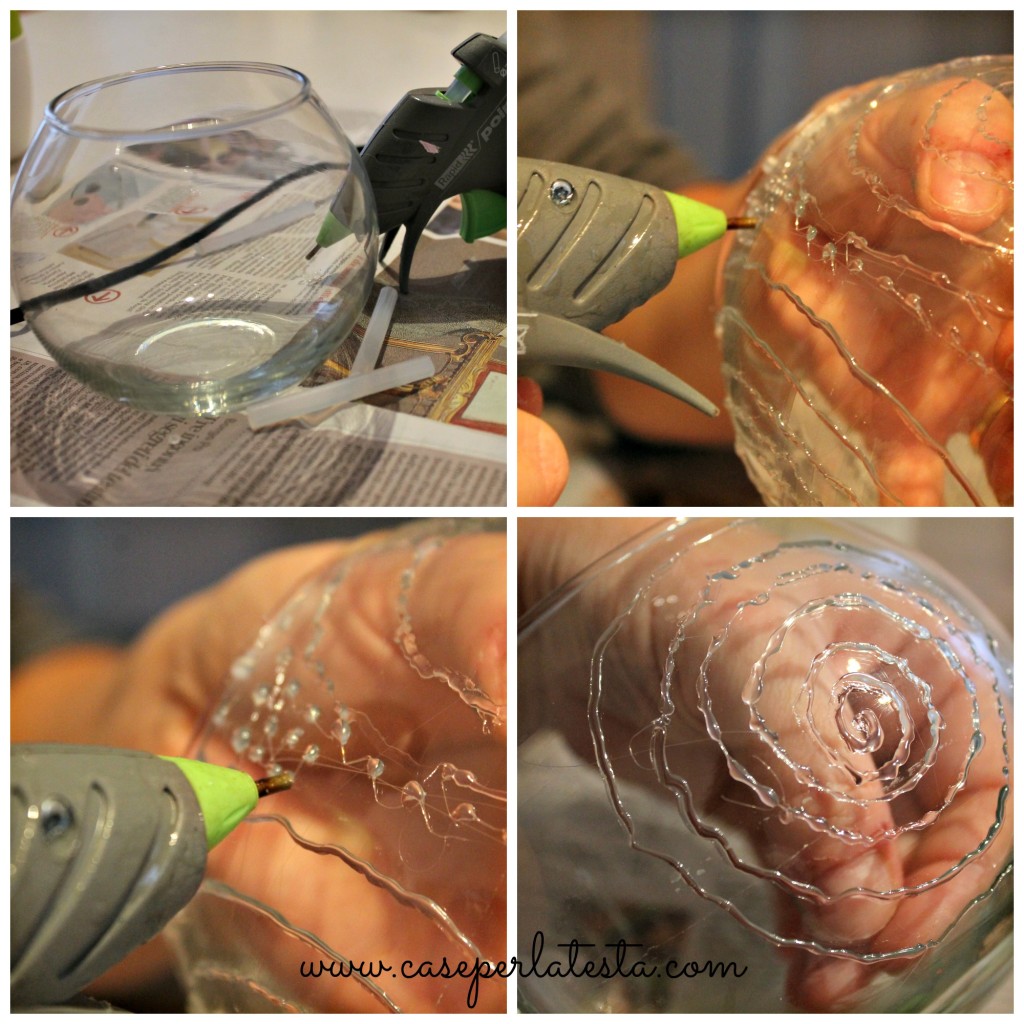 Che ne pensate? Ho fatto degli esperimenti con la luce, nel fotografarlo: non sembra quasi un vaso importante e non un vaso scontatissimo con sopra un po' di colla?!?!?
And then I reminded that I've bought in a sale store a stock of glass jars of which I had noticed the nice slightly bulging form.  So I thought I would try to decorate a glass jar with hot glue and then spray paint it, I've seen some great achievements made ​​in this way. I  started drawing with hot glue simple shapes on the glass jar: spirals and dots. I really enjoyed the result, a bit primitive, perhaps, but I like it that way. After I consulted with my hubby and Miss B, my 7 months baby girl, I decided that the glass jar decorated with hot glue had more character like that, without any color: glue suggested the impression of a decorated precious glass jar, of those hand-made by Venetian master potters …
What do you think? I 've been experimenting with light, in the photographs: my glass jar almost looks like an  important vase  and not a discounted jar  with a little glue? ! ? ! ?