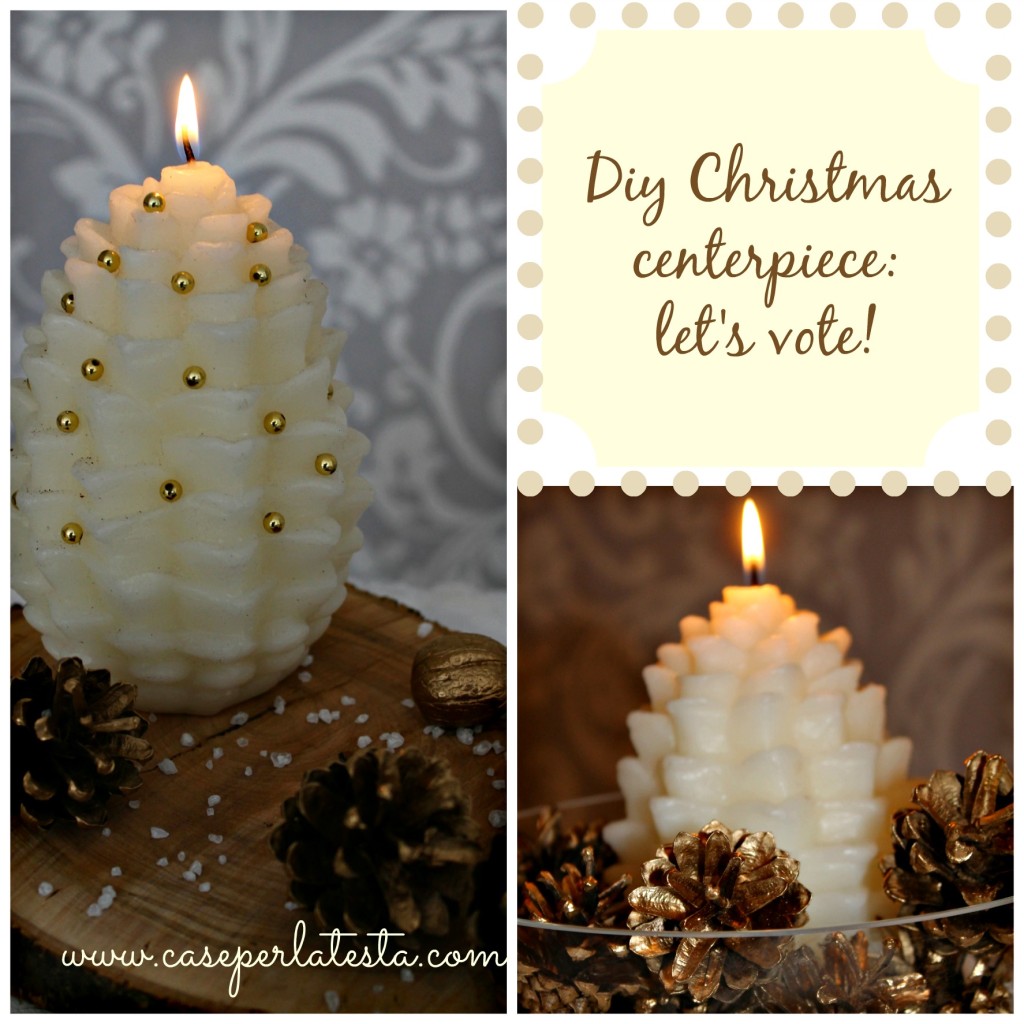 Oggi ci dovete aiutare a scegliere… Questo pomeriggio mia sorella ed io ci siamo messe a pensare a cosa fare come centrotavola per il pranzo di Natale.
Today you have to help us choose … This afternoon my sister and I started to think about what to do as a centerpiece for Christmas dinner.
Problemi da tenere in conto nel decidere quale centrotavola di Natale scegliere:
non deve avere troppe candele perchè Miss B è… irrefrenabile!

il nostro tavolo sarà affollato e quindi il centrotavola deve essere di dimensioni ridotte;

deve avere qualcosa di dorato, perchè la tavola (a breve ve la mostreremo in anteprima) avrà come tema il rosso e l'oro (sii, lo so, un po' scontato, eh? però ci piace così tanto!);

non deve essere costoso da realizzare, lo sapete il nostro motto sta diventando… chic&cheap!
Issues to be taken into account in choosing which Christmas centerpiece :
our table will be a bit… crowded therefore our centerpieve must be of small size ;
it should not have too many candles because Miss B is … irrepressible !
it must have something golden, because the table (soon I will show a preview) will have as as theme red and gold (yeahh, I know, a bit 'obvious , naa? but we love it so much! )
it does not have to be expensive to make, you know our motto is becoming … chic & cheap !
Quindi abbiamo fatto delle prove, con quello che avevamo in casa, ora ve le presentiamo e poi vi chiediamo di aiutarci a scegliere quale, votando!
So we did some tests with what we had at home, now we'll show you  them and then we ask  to help us choose which, voting !
1. Centrotavola "marino" con conchiglie e perle * Centerpiece "marine" with shells and pearls.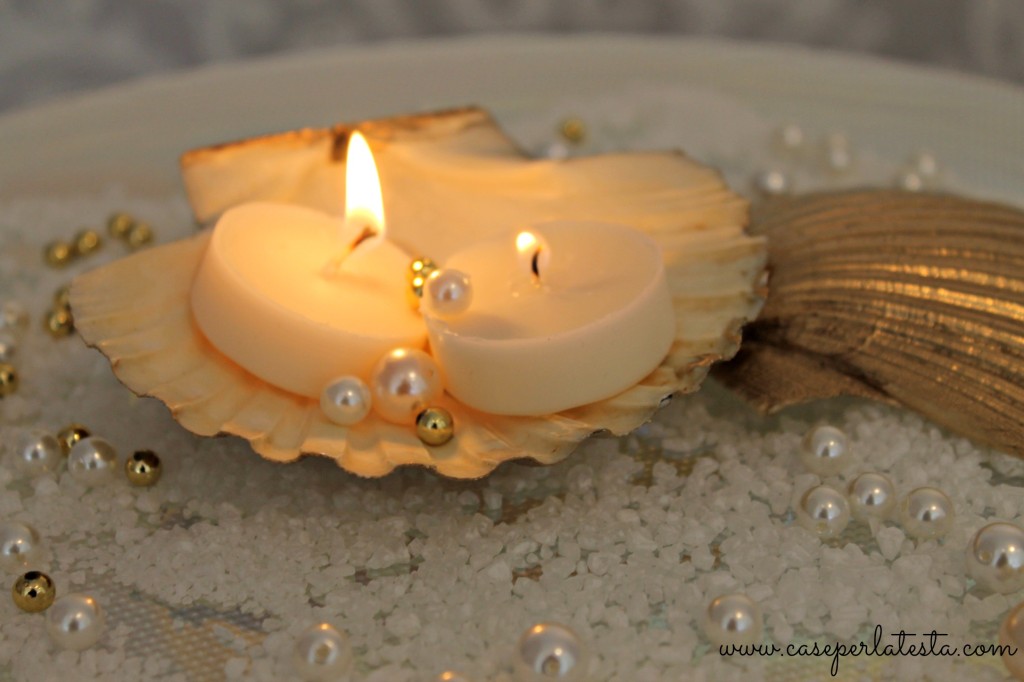 Abbiamo verniciato con una bomboletta spray oro lucido due conchiglie di San Giacomo. Su  un'alzata abbiamo prima steso un po' di sale grosso e poi sparso delle perle di vari diametri insieme a perline dorate. All'interno di una conchiglia abbiamo messo delle piccole candeline insieme a delle perle.
We spray painted  in gold two shells of St. James. On a shrug we stretched a bit ' of salt and then scattered  pearl beads of various diameters togheter with golden beads. Inside of a shell we put small candles with pearls.
2. Centrotavola "rustico" in legno con delle pigne * Wood centerpiece "rustic"  with pine cones.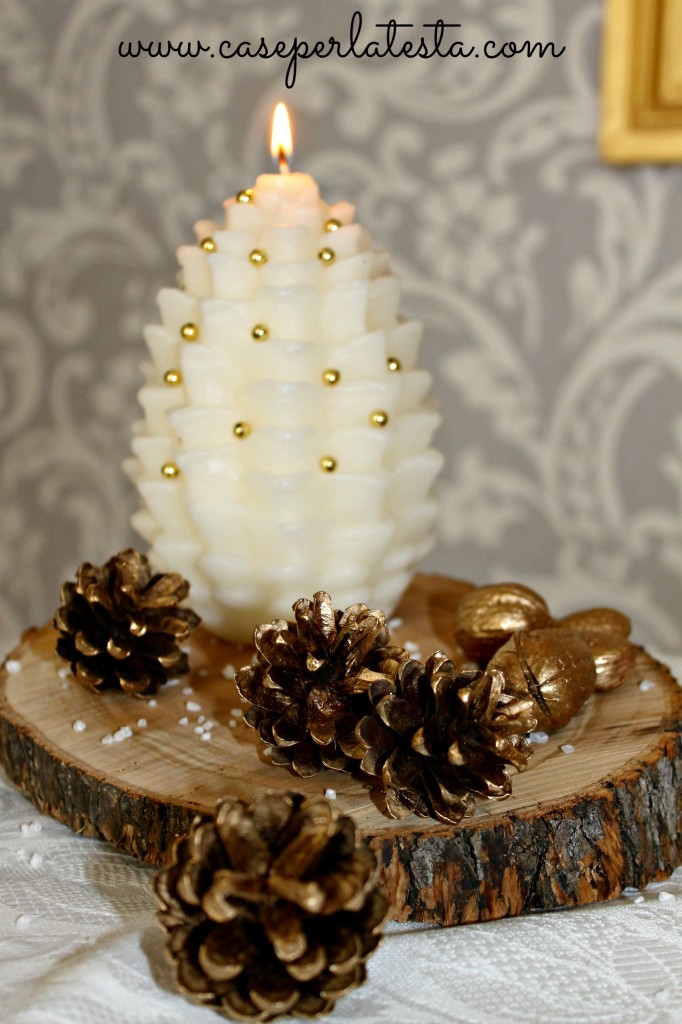 Su una sezione di tronco di ulivo grezzo abbiamo disposto delle pigne raccolte in montagna e poi dorate, e sulla candela bianca (di qualche anno fa) a forma d'albero abbiamo sparpagliato delle perline dorate.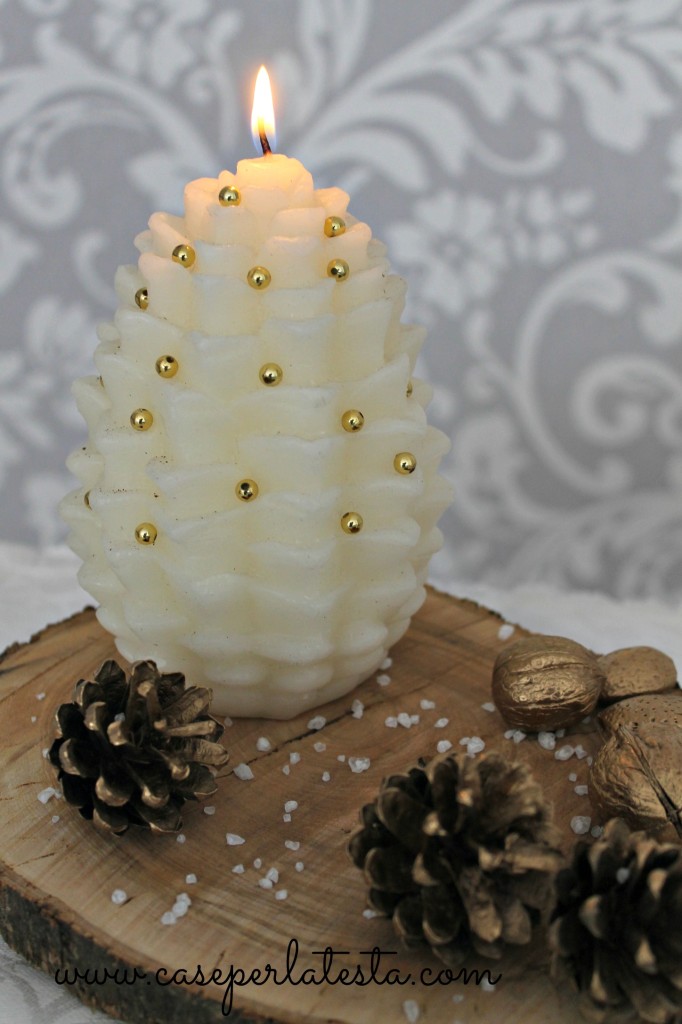 On a trunk section of olive we placed  pine cones collected in the mountains and then gold , and white candle in the form of tree and then we scattered golden beads.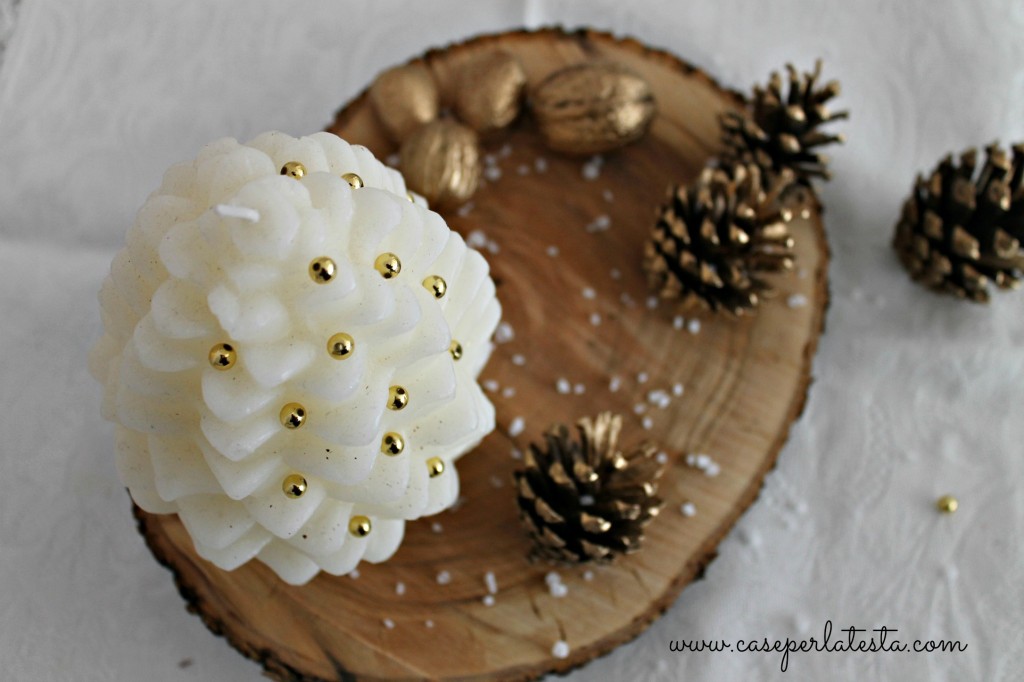 3. Centrotavola con frutta secca dorata * Golden dried fruit centerpiece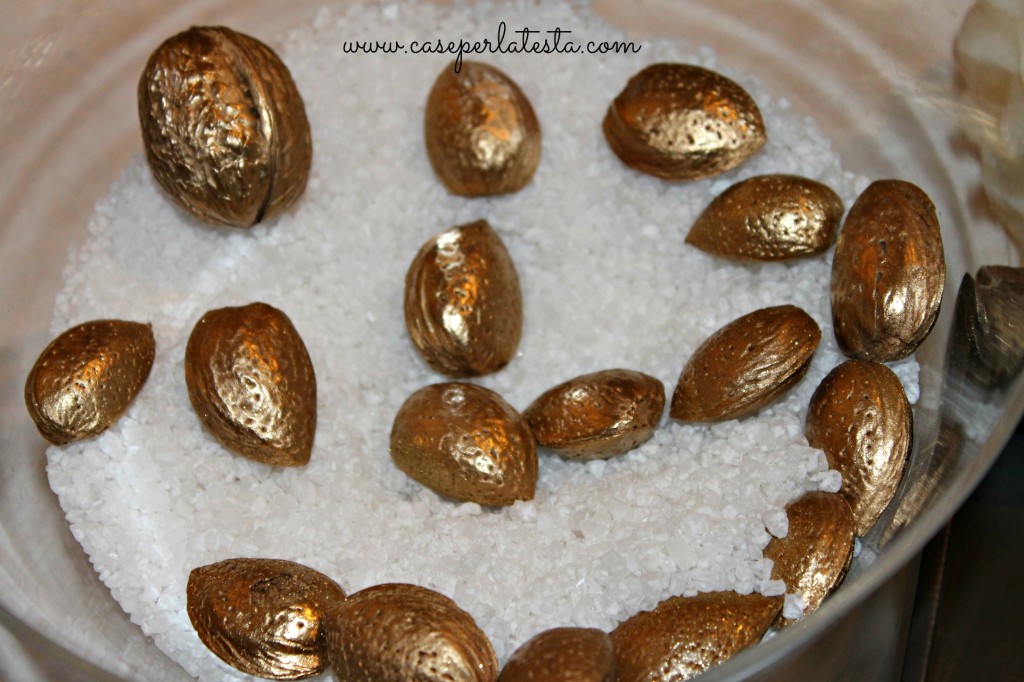 In un vaso in vetro di dimensioni 20 cm di diametro per circa 27 cm di altezza, abbiamo prima messo del sale grosso, il cero bianco, noci e mandorle dorate con la bomboletta spray.
In a glass vessel of 20 cm of diameter and a height of about 27cm, we first put the salt, a white candle, golden walnuts and almonds.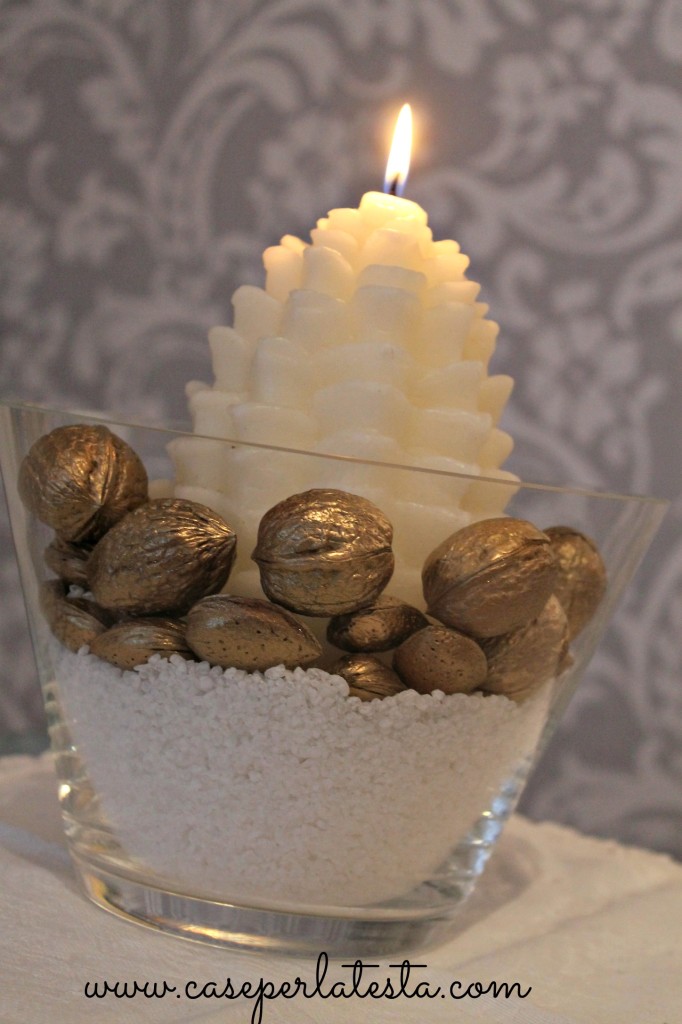 4. Centrotavola con le pigne * Pine cones centerpiece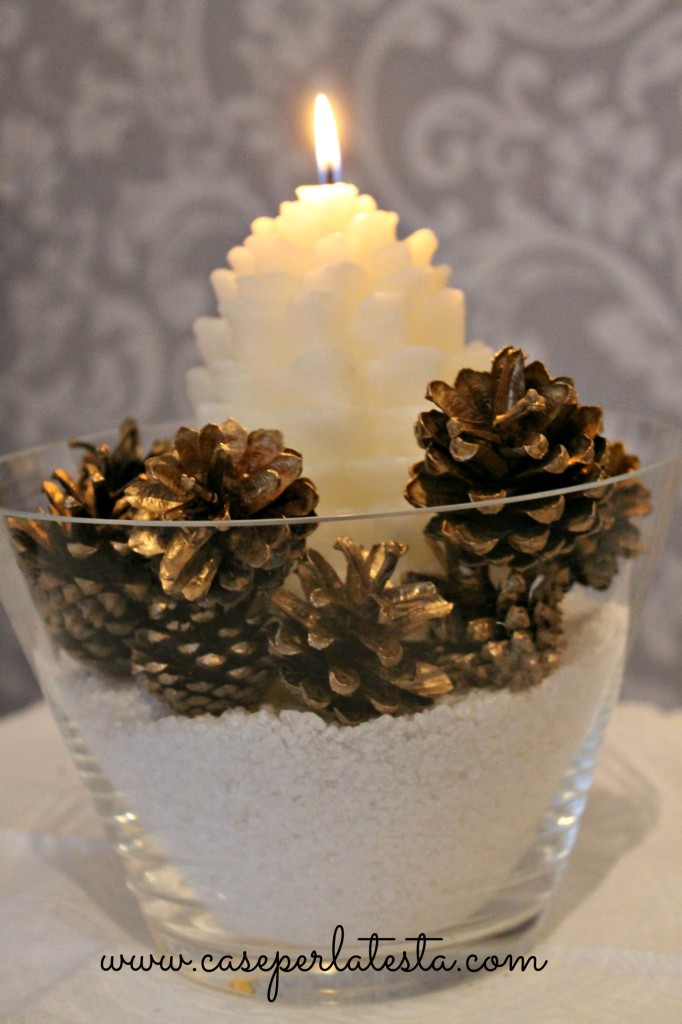 Nello stesso vaso abbiamo poi sostituito la frutta secca con le pigne, per dare un aspetto più "montano" all'insieme.
In the same pot,  then we replaced the nuts with pine cones, to give a more " mountain " flair to the centerpiece.
Quale centrotavola per Natale vi è piaciuto di più? Aiutateci a scegliere, diteci la vostra!
 So which centerpiece for Christmas you like most? Help us to choose, tell us yours!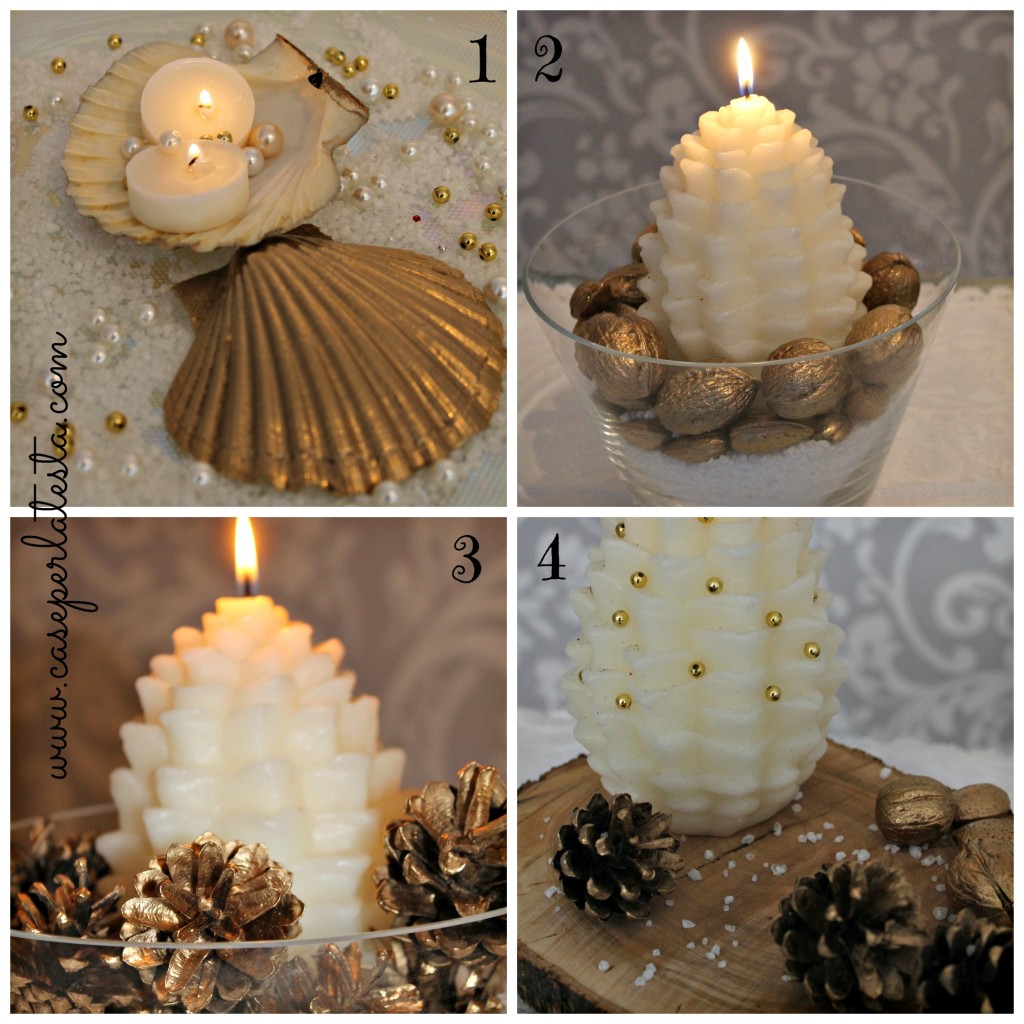 I party at El Finde Frugal each Friday! Join us!