Heilà! la la lalalalalala!! Tin tin tin tin tin… la sentite? è la slitta di Babbo Natale che scalda i motori! Uao che bello! Qui ieri sera ha nevicato e le previsioni dicono che nevicherà anche a Natale!
Ieri sera ho finito di comporre i bigliettini chiudipacco per i miei regali di Natale e oggi ve li propongo: scaricateli, stampateli su carta o cartoncino e, se volete, fate un buchino sull'angolo per far passare un nastrino: finito! Se riuscite a trovarla, stampateli su carta da pacco, rendono ancora meglio! Il formato è un foglio A4 e vanno piegati lungo la linea tratteggiata. Questi biglietti di Natale possono anche andare bene come segnaposto per la tavola di Natale! Sono decisamente frugali e velocissimi da finire!
Vi piacciono? Spero tanto di si! Tin tin tin… si avvicina Natale! Un abbraccio a tutti!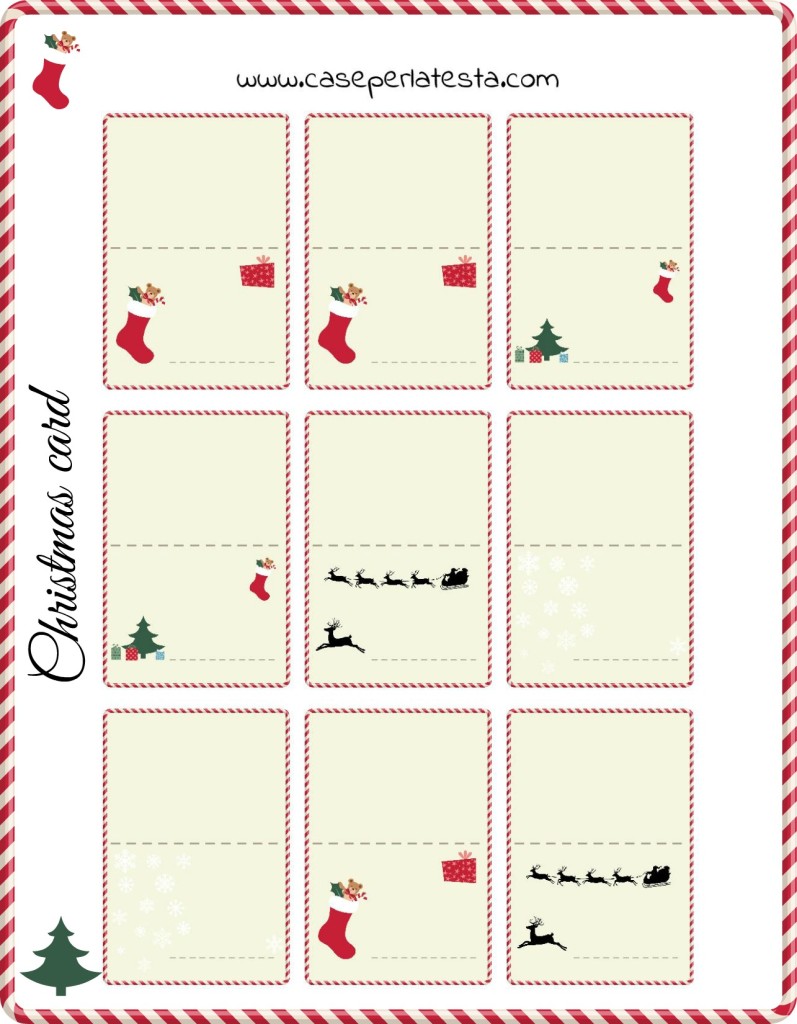 Hey there! la la lalalalala !! Tin tin tin tin tin … you hear it? Is Santa's sleigh that warms the engines! Wow that's great! Here it snowed last night and the weather forecast says it will snow at Christmas!
Last night I finished composing the cards gift tag for my Christmas gifts and today we offer them: download them, print on paper or card and, if you wish, make a small hole in the corner to pass a ribbon: finished! If you can find them, print them on wrapping paper, make it even better! The format is a sheet of A4 and should be folded along the dotted line. These Christmas cards can also be good as a placeholder for the Christmas table! I'm definitely frugal and fast to finish!
Do you like? I really hope so! Tin tin tin … Christmas is approaching! A hug to everyone!
Salva