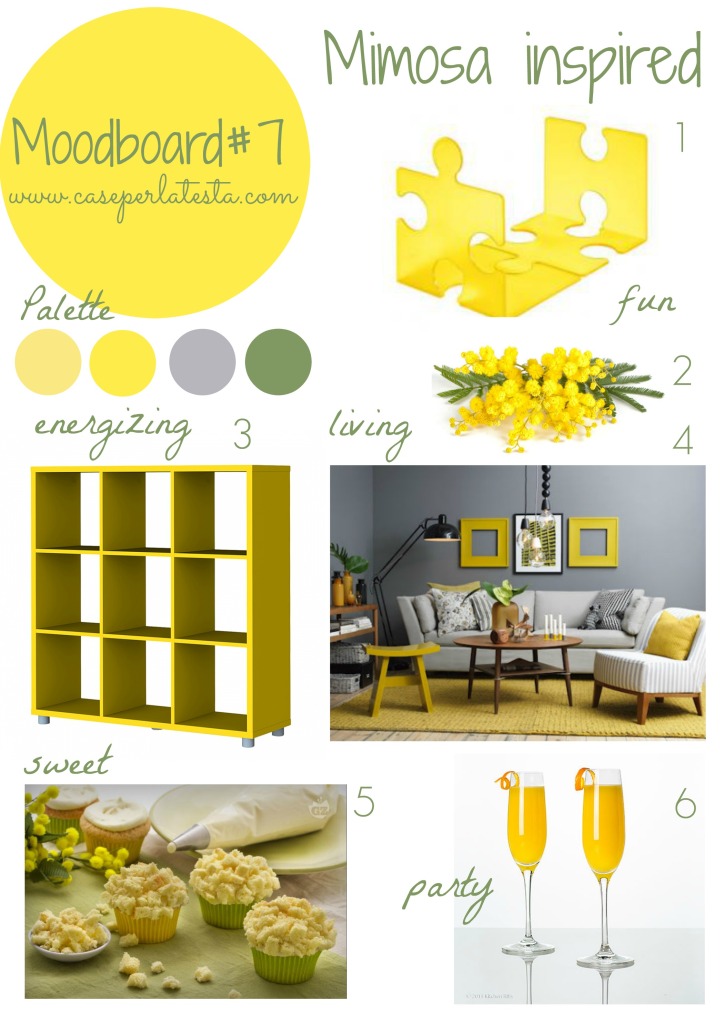 Ed eccoci al nostro appuntamento del mercoledì con le moodboard! No, non ho bevuto, lo so che oggi è venerdì…abbiamo dovuto spostare il My moodboard on wednesday linky party ad oggi perchè mercoledì eravamo parte di una bellissima iniziativa di Pasqua…28  blogger per altrettanti progetti pasquali….se volete ispirarvi trovate il post qui.
Here we are to our weekly linky party on Wednesday with moodboards! No, I'm not drunk,  I know that today is Friday … we had to move the My moodboard on wednesday linky party today because Wednesday we were part of a wonderful Easter initiative  … 28 bloggers for 28 great Easter inspired projects  …. if you want to be inspired, see them here.
Questa settimana mi sono fatta ispirare dai fiori che, in questo periodo, irrompono con il loro giallo energizzante nella macchia verde: le mimose! Anche perchè domenica sarà la festa delle donne  e tutto sarà un fiorire di mimose..La palette della moodboard è composta infatti dal giallo chiaro dei fiori ancora da sbocciare, da quello intenso dei mazzetti già fioriti, dal verde delle foglie e dal grigio chiaro, che in parte richiama il colore neutro della corteccia.

This week I got inspired by  lovely flowers blooming in this period: mimosas! Also because Sunday  is Women's day and everything will be a hive of mimosas. This palette goes from light yellow of blooming mimosas,  the one  already intense of bunches of flowers, to the  green of  leaves and light gray, which in part draws the neutral color of the bark.
E poichè associo il colore giallo al divertimento e alle risate, mi sembra appropriato un complemento d'arredo spiritoso e pop come il porta cd (1) composto da pezzi di puzzle che ho trovato su Livingo, simpatico vero? Ovviamente non può mancare una foto della pianta in questione, la mimosa (2). Dato che ho appena finito di mettere a posto il mio angolo craft – era ora…- e mi manca una libreria/scaffale dove mettere suddivisi i libri, i materiali per lavorare, gli oggetti per i prossimi progetti DIY, pensavo di orientarmi su qualcosa di colorato, dato che è tutto total white….magari come la libreria della foto….lineare e decisa (3). Che il giallo limone – o mimosa in questo caso – si accompagni egregiamente con il grigio è cosa nota, la foto di interni (4) ne è la conferma, è elegante ma informale! E per finire due cose che non possono mancare per festeggiare con le amiche la festa delle donne: dei deliziosi cupcake mimosa (5) e un cocktail…mimosa ovviamente! (6).

And as I associate the  yellow color with  fun and laughter, it seems appropriate a witty pop piece of furniture as cd holder (1) consists of puzzle pieces that I found on Livingo, cute, right? Obviously you can't miss a photo of the plant in question, the mimosa (2). Since I just finished making order in  my craft corner – and now I realize  I need a bookcase or a shelf to put in  books, materials for work,  objects for the next DIY project, I thought of  something colorful, maybe like the library of photos …. linear and strong (3). That yellow lemon – or mimosa in this case – is accompanied well with the gray is well known, the photos of interiors (4) is the confirmation, is elegant but casual! And finally two things you can not miss to celebrate with friends Women's Day:  delicious mimosa cupcake  (5) and a mimosa cocktail … of course! (6).
Salva
Salva