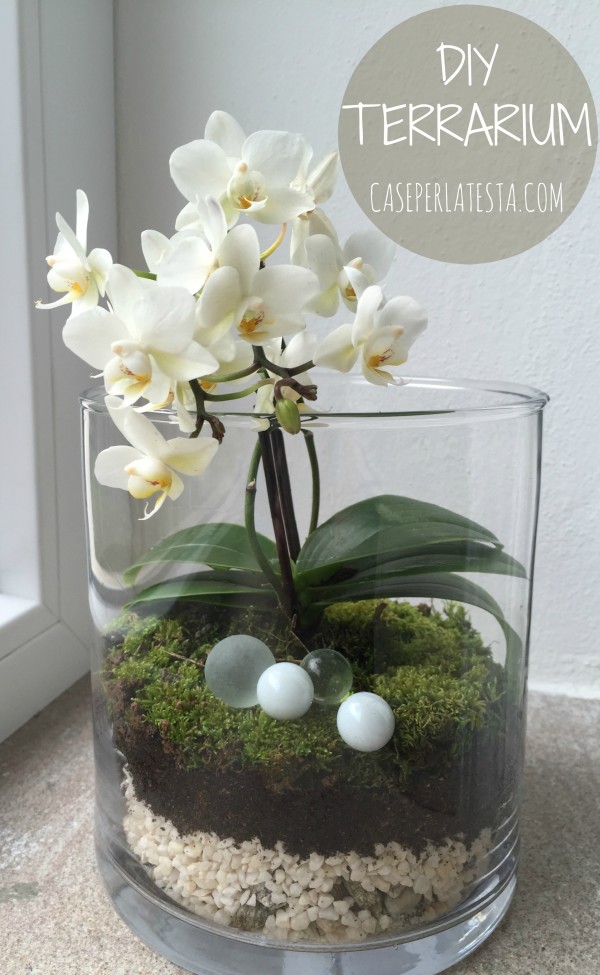 C'è una vetrina davanti a cui non posso fare a meno di fermarmi. Scarpe? Vestiti? No, i fioristi; lo so, sono strana…ma mi piace molto vedere come l'estro dei fiorai nelle composizioni con piante e fiori montate insieme nelle vetrine. There is a shop in front of which I can not help but stop. Shoes? Clothes? No, florists; I know, I'm weird … but I really like to see how the inspiration of the florists shows its best in compositions.

Una delle piante che amo maggiormente è l'orchidea, la phalaenopsis in particolare, così ho pensato, invece di metterla in un vaso colorato, di creare un piccolo terrario come spesso si vede dai fioristi. Come si fa? Facilissimo! Prendi un vaso di vetro, oppure un barattolo di vetro, una vecchia caraffa, un acquario, quello che la fantasia ti suggerisce! Crea gli strati del terrario cominciando da pietre larghe, poi pietroline più piccole, terriccio e infine muschio.
One of the plants that best love is the orchid, the phalaenopsis in particular, so I thought, instead of putting it in a colorful vase,  to create a small terrarium as is often seen in florists's shops. How to? It's so easy! Get a glass jar or a mason jar, an old jug, an aquarium, what the imagination suggests you! Create layers of the terrarium starting with large stones, then smaller ones, soil and finally moss.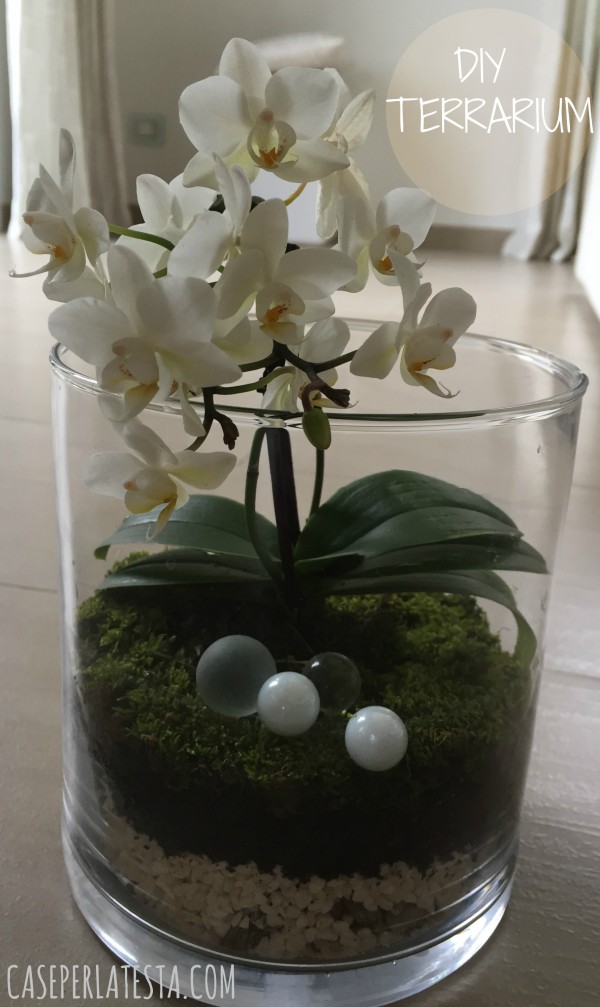 Aggiungi le piante che più ti piacciono, sono perfette le piantine grasse, e qualche decoro o sabbia colorata al posto del muschio. L'effetto, rispetto al classico vaso, è decisamente più bello, non trovi? Add the plants that you like most, the succulent plants are perfect, and some decorative objects or colored sand instead of moss. The effect, compared to the classic vase, it is much nicer, do not you?
Questa è un'idea fantasticacome regalo per  la festa della mamma! That's a great idea as Mother's day gift!
Salva