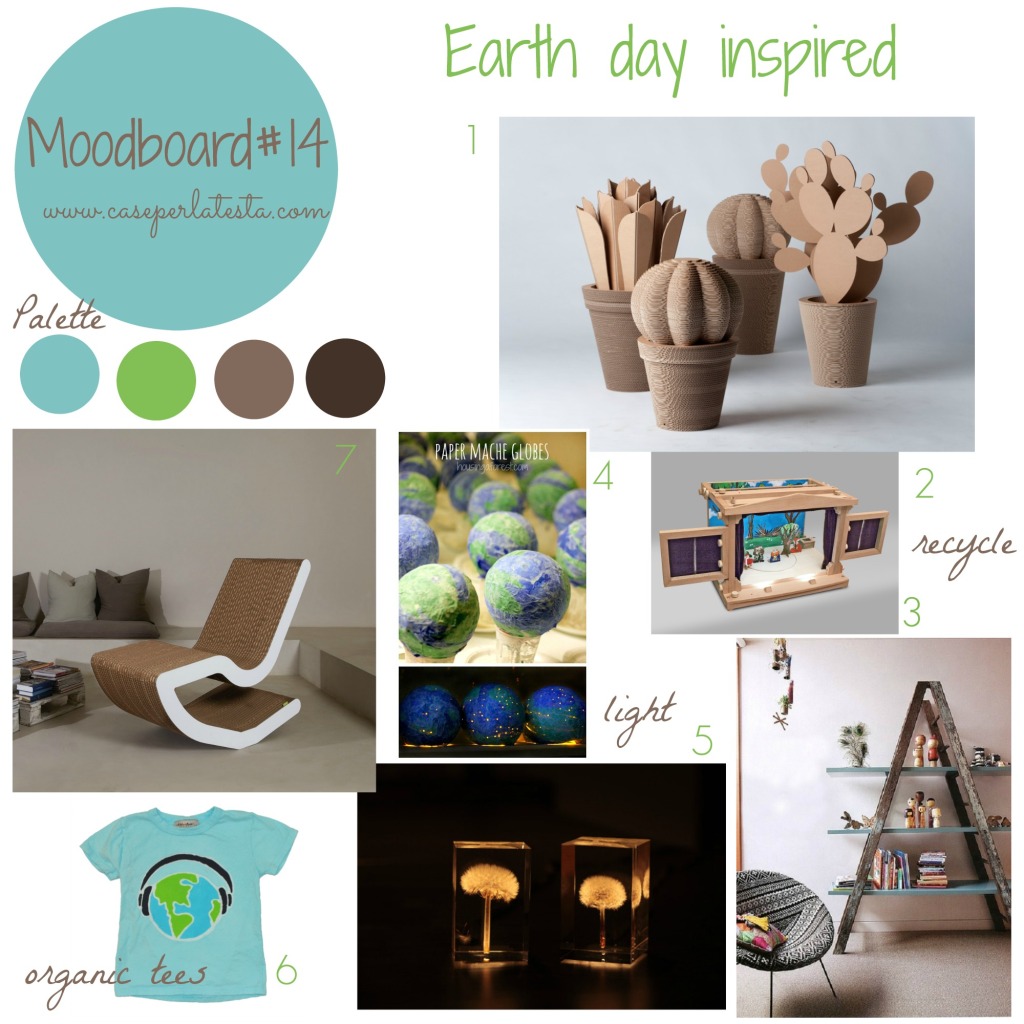 Come sicuramente saprete, oggi è la Giornata mondiale della Terra, giorno in cui si celebra la salvaguardia del nostro pianeta, che promuove la riduzione di sprechi e consumi delle  risorse non rinnovabili. La moodboard di oggi non poteva non essere ispirata a questa ricorrenza! E il rispetto e la salvaguardia dell'ambiente passano attraverso un corretto riciclo di materiali e oggetti; per questo mi piacciono moltissimo gli oggetti di design e di arredo che sono realizzati con materiali riciclati, quali ad esempio il cartone. Negli ultimi anni si è sviluppato molto questo settore sia in termini di ricerca che in termini di soluzioni proposte; per esempio le piante in cartone ondulato della figura 1 sembrano un simpatico oggetto dècor, e in effetti lo sono, ma sono anche depuratori per l'aria con filtri che migliorano gli ambienti in cui viviamo. Proprio una bellissima idea di Filtrinext! Gli arredi in cartone sono sempre più diffusi e di grande impatto visivo; a me piacerebbe avere una chiase longue come quella di Kubedesing (7) dove rilassarmi ascoltando musica. Ma la salvaguardia dell'ambiente non si attua solo usando materiali di riciclo ma anche dando nuova vita e funzione a vecchi oggetti … e su questo tema sapete che i nostri post abbondano! Per esempio avete bisogno di un nuovo scaffale / libreria? Avete a casa quelle vecchie scale in legno che ormai, giudicate troppo pesanti e sostituite dalle maneggevoli scale in alluminio, non si usano più? Perfetto, aggiungete alcune mensole e avrete una libreria fai da te low cost velocissima da realizzare!(3) E il nostro rispetto dell'ambiente deve essere di esempio per i bambini; ci sono moltissimi progetti da fare con i bambini per la Giornata della Terra, un modo di sensibilizzarli divertendosi. Mi è molto piaciuto il progetto della foto 4, alcuni bambini hanno realizzato delle lampade in cartapesta a forma di pianeta terra; questo può essere un'idea di lavoretti  per le scuole per la Giornata della Terra perfetto! Sempre pensando ai bimbi, un giocattolo bio, un teatrino dove ambientare storie fantastiche (2)  e  una T-shirt organica con il pianeta disegnato (6). Come ultima ispirazione ho lasciato un progetto che a mio giudizio è davvero favoloso e poetico; il regista giapponese Takao Inoue ha ideato e realizzato queste lampade con i soffioni….veri! Ha raccolto i soffioni avendo cura di non far disperdere i semi , li ha racchiusi in un blocco di acrilico e infine ha infilato una luce led nello stelo; questa idea penso sia il riassunto di un approccio di rispetto, attenzione e valorizzazione della Natura fantastico!
As you surely know today is Earth Day, the day when we celebrate the preservation of our planet, trying to raise awareness of the protection of resources.
Today's moodboard could not but be inspired by this event! 
And the respect and protection of the environment  pass trough a proper recycling of materials and objects; for this reason
I really like  design objects and furniture that are made from recycled materials, such as cardboard.
In recent years  this area has developed both in terms of research and  of solutions;
for example plants made with cardboard as in figure 1 seem a cute dècor object, and indeed they are, but they are also air purifiers with filters that improve the air of the environments in which we live, public and private.
Really a beautiful idea of Filtrinext! Cardboard
furniture, as I mentioned earlier, are becoming increasingly popular;
I'd like to have a chaise longue as that of Kubedesing (7) where relax and listening to music.
But environmental protection is carried out not only using recycled materials but also use old objects giving them new life … and you know we love these theme for our posts!
For example, you need a new shelf / bookcase at home?
Have you got those old wooden stairs that now, due to their  heavyness, are do not use anymore?
Perfect, add some shelves and you'll have a DIY bookcase  low cost fast to achieve! (3) And our respect for the environment should be an example for the children;
there are many projects to do with kids for Earth Day, a fun way to raise awareness.
I really liked the idea in picture 4, some children have made of paper mache lamps in the shape of planet Earth; this may be a perfect craft idea  for schools for Earth Day!
Always thinking of the children, a bio toy, a theater where to set fantastic stories (2) and a organic T-shirt with the planet drawn (6).
As a last inspiration I left a project that in my opinion is really fabulous and poetic;
the Japanese director Takao Inoue has designed  these lamps with dandelions …. true! He has co
llected the dandelions taking care not to disperse the seeds,  encased them in a block of acrylic and finally slipped a led light in the stem;
I think this idea is the summary of an approach of respect, care and enhancement of Nature fantastic!
E come sempre le moodboard featured questa settimana, la mia preferita e la più cliccata: 
And as always the moodboard featured this week, my favorite and the most clicked:

Just colors di Aleka Craftaholic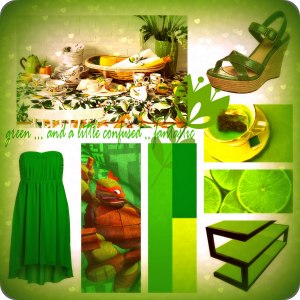 Green…. and little confused di Sissi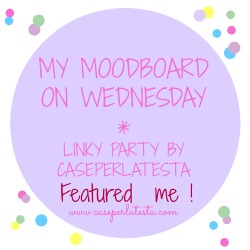 My Moodboard on Wednesday linky party, un linky party dedicato alle moodboard. Uno spazio per ispirare e lasciarsi ispirare. Condividi la tua moodboard, ogni settimana la nostra preferita sarà featured e condivisa su tutti i nostri profili social!
Ecco le regole per partecipare al My Moodboard on Wednesday linky party:
– ci piacerebbe se ci seguissi in qualche modo – non è obbligatorio ma è sempre carino! Su Facebook, Pinterest, Twitter, Instagram sull'e-mail!
– partecipa con la tua moodboard, il cui contenuto deve essere family friendly, of course! Può essere di DIY, Home decor, fashion, cucina, natura, colori, beauty, viaggi…
– My Moodboard on Wednesday linky party inizia ogni mercoledì e finisce il lunedì successivo alle 12.00 c.e.t.
– visita e lasciati iswpirare da almeno altre 2 moodboard, magari lasciando un commento!
– inserisci il banner del linky party che trovi di seguito nella tua sidebar e condividi My Moodboard on Wednesday linky party party sui tuoi profili social: più siamo e più ci divertiamo!
I link appariranno in modalità random, tutti saranno visibili per primi!
La nostra moodboard preferita della settimana sarà featured e condivisa su tutti i nostri profili social.
Partecipando a questo linky party accetti di essere inserito nella mailing list di Caseperlatesta: riceverai ogni settimana una e-mail per ricordarti del My Moodboard on Wednesday linky party. Ci autorizzi inoltre a utilizzare le tue immagini della moodboard per presentare la tua modboard e a condividerla sui nostri profili social.
Soo, are you ready?
My Moodboard on Wednesday, a linky party dedicated to moodboard: a space to inspire and be inspired. Share your Moodboard, our favorite of the week will be featured and will be presented on all our social profiles!
Here are the rules for participating at the My Moodboard on Wednesday linky party:
-It would be really very nice if you follow us in some way, it's not mandatory but… it is nice! On Facebook, Pinterest, Twitter, on email!
– Participate with your moodboard, the content must be family friendly, of course! The content can be DIY, home décor, fashon, cooking, nature, beauty, colors, travel…
– The party starts on Wednesday and ends the following Monday at 12:00 cet
– Visit and be inspired by at least two other moodboard, comments are always really welcomed!
– Place the banner of My Moodboard on Wednesday linky party in your sidebar and share My Moodboard on Wednesday linky party on your social profiles: the more we are and more we have fun!
Links will appear in random mode, all will be visible first!
Our favourite moodboard of the week will be featured and shared on all of our social profiles.
By participating in this linky party you agrees to be placed on the mailing list of Caseperlatesta: receive a weekly e-mail to remind you of My Moodboard on Wednesday linky party. Also authorize us to use your images of moodboards to present your moodboard if featured and share it on our social profiles
Pronti per il nuovo linky party My Moodboard on Wednesday linky party? Sii!
So, are you ready for this week's My Moodboard on Wednesday linky party? Yaiiii!!!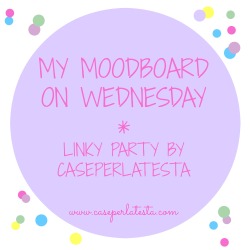 [inlinkz_linkup id=518118 mode=1]
Salva