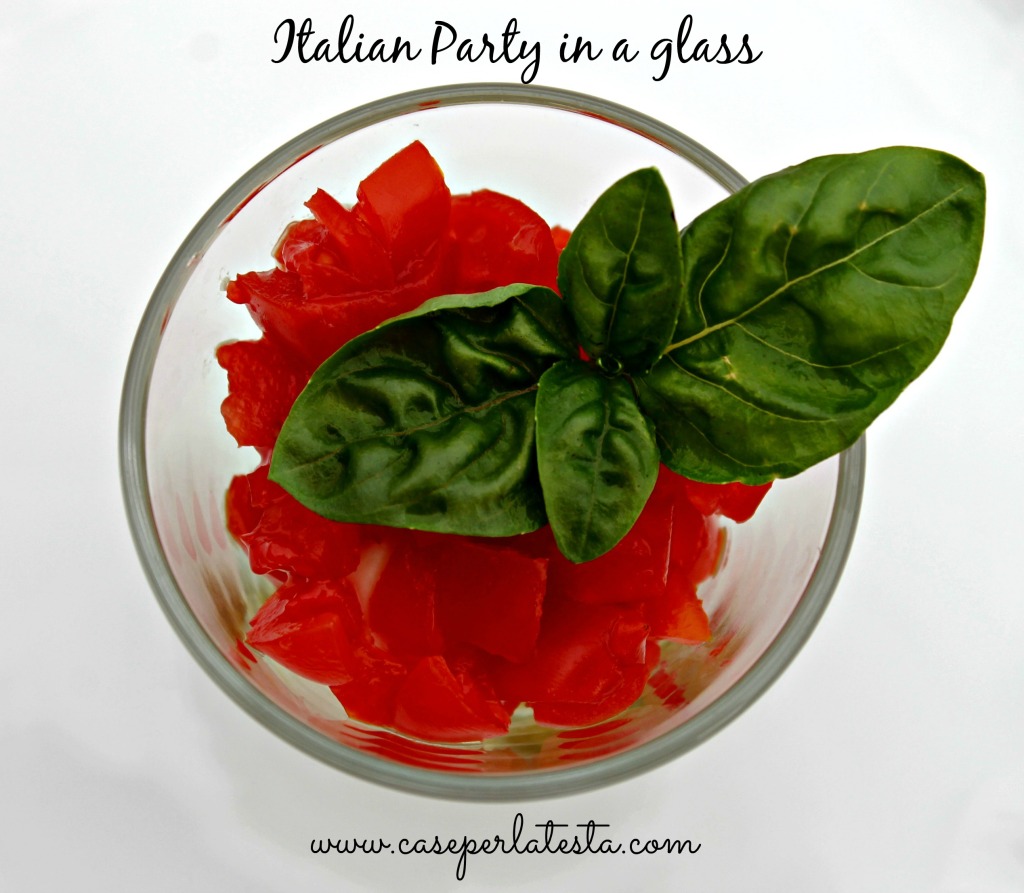 Oggi voglio condividere il post che ho preparato per Megin di VMG206: sono  onorata di far parte della sua iniziativa 30 Days of Summer at VMG206!
Il post è, ovviamente, in inglese e il tema è come organizzare un Italian Party in un bicchiere. Ho preparato delle semplici ricette italiane e le ho servite in bicchieri di vetro: la resa è suggestiva!
Per tutto il mese di giugno, ogni giorno, Megin condivide progetti, idee, ricette, suggestioni sul tema Estate: tante bellissime ispirazioni!
Today we are guest posting at VMG206 : Megin is sharing for each day of June, Sumemertime ideas in 30 Days of Summer at VMG206: be inspired and visit each day this amazing blog!
We are so happy to share with you today our recipes for an Italian party in a glass! You can organize an italian party in a glass almost everywhere: at home, of course, in the backyard, at seaside: every occasion is good to party! Sooo, let's party!
First we must admit that no, here in Italy we don't play mandolino all the time and no, we are not garlic and chili addicted and of course we don't use pasta as baby forumla… This said, we think it's funny to overdo an italian mise en place for an italian inspired party! Using glasses to serve and display the food is a good idea: it's stilish and allows you to prepare in advance single servings, having time to enjoy the party yourself!
The summer menu we suggest is:
– caprese salad in a glass
– pesto pasta salad with tuna and taggiasche olives (a variety of olives typical of Italian Riviera)
– panna cotta with berries
CAPRESE SALAD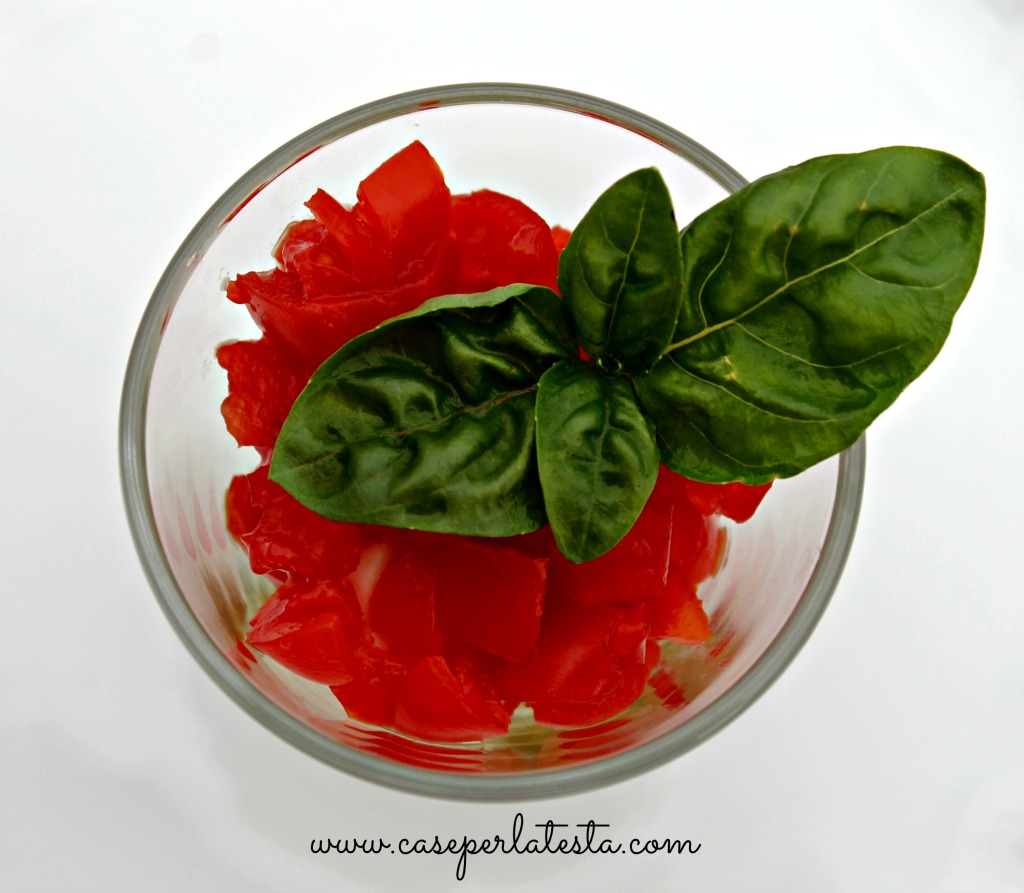 Well, this recipe is sooo easy we are a little ashamed of writing it. A caprese salad is basically tomatoes and mozzarella cheese. But we give it a flair with a green olives tapenade. There are lots of ways to use tapenade: stirred through pasta, dolloped into  soup, spread on toast or a bruschetta…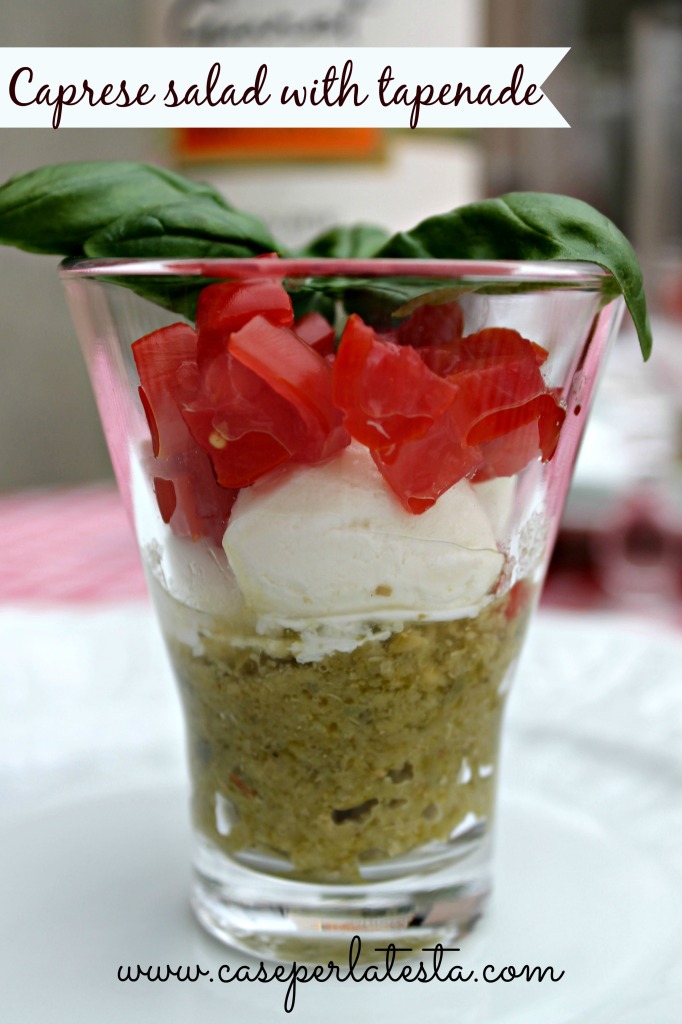 The recipe for tapenade is:
What you need: (serving 6)
– 1/5 clove garlic (again, we don't like garlic so we use really a little, but you can use up to 1 clove)
– 2tbsp salted capers, washed from salt
– 100g green olives
– 2tbsp fresh parsley
– 1tbsp fresh lemon juice
– 2tbsp extra virgin olive oil
– black pepper
– oregano
– marjoram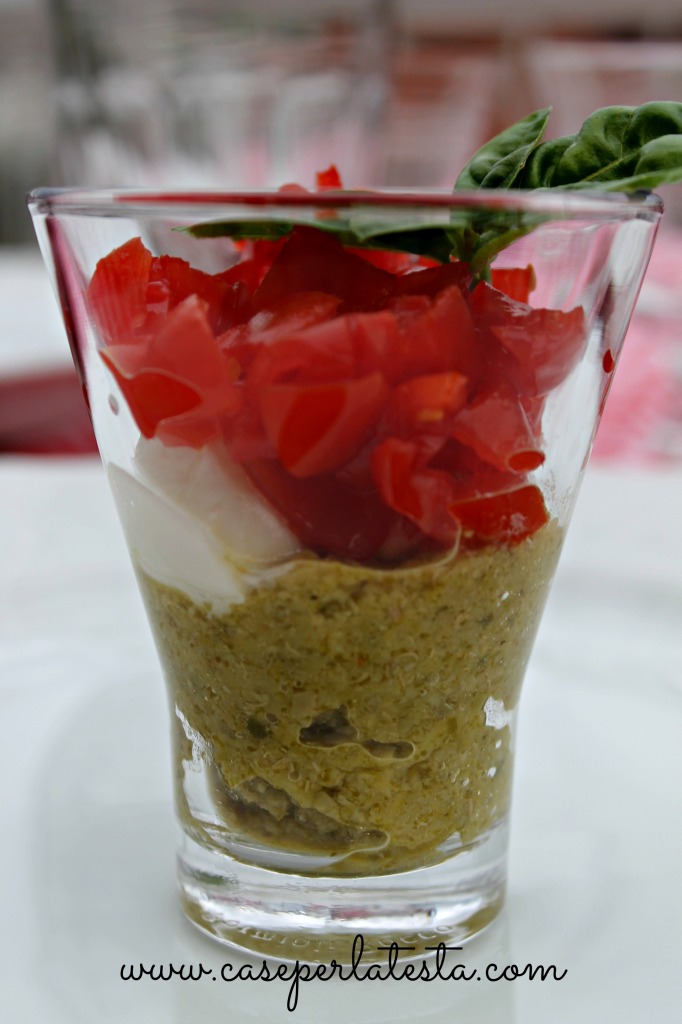 How to:
Combine all ingredients in a food processor, and blitz until a paste is formed (we  like to keep it  fairly coarse). Season to taste, if needed
PESTO PASTA SALAD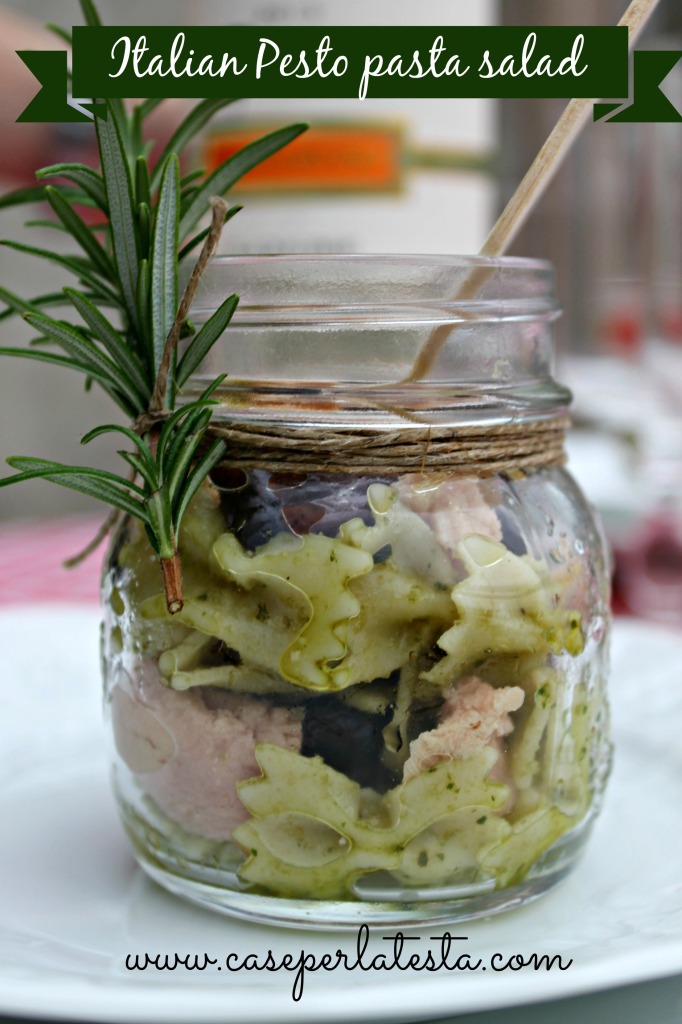 This recipe, a pesto pasta salad,  is a favourite of us, Illy lives in the italian Riviera on the seaside and Pesto is a sauce from there. We'll share our recipe for pesto, prepared using a food processor, in the traditional recipe ingredients are crushed in a mortar. The secret for a green, very green pesto is to avoid salt: stir in at the very end, when you're ready to serve pesto pasta.
What you need: (serving 6)
– 500 gr short size pasta
– 1/2 cup pine nuts
– 2 cloves garlic (we don't like garlic so we tend to use it scarcely, feel free to increase the amount of cloves as you like)
– 3 cups fresh basil leaves
– 1/2 cup freshly grated Parmesan
– 3/4 cup extra-virgin olive oil
– salt  about 1/2 tsp
– 1/2 cup taggiasche olives (or any  black olives you like)
– 3/4 cup canned tuna in big chunks.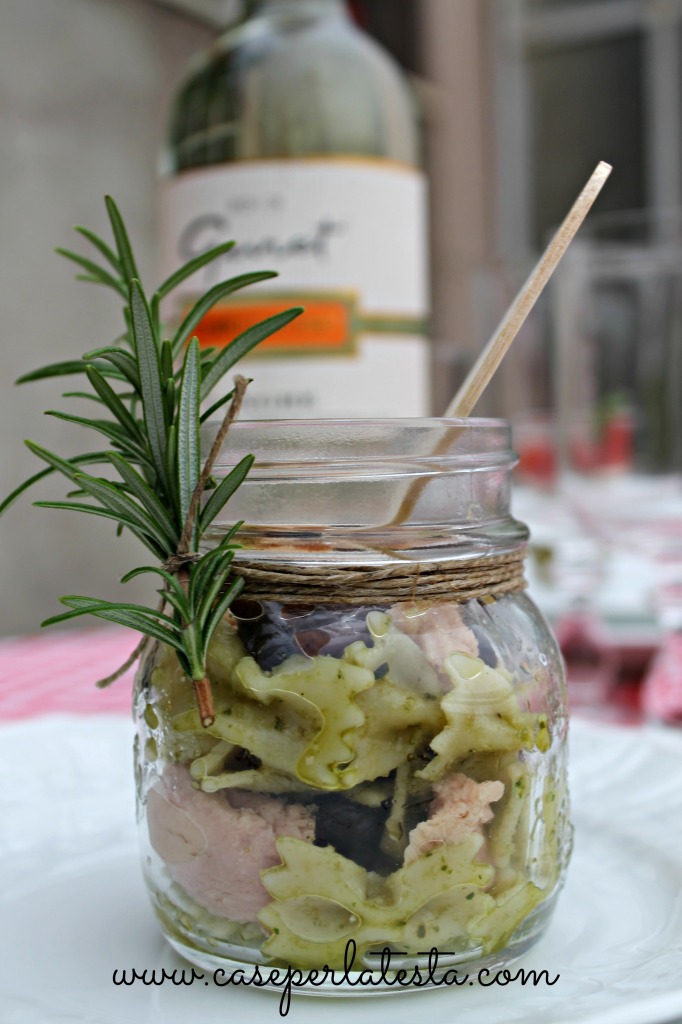 How to:
1. pour 1,5 gal (5 litres) of water in a big saucepan and let it boil. When it boils (and not before) add 1 tbs of salt and pasta and cook until nearly ready: I mean if on the pasta package is written cook for 10 minutes, at 9 minutes drain pasta and wash  with cold, running water. Drain accurately,  then pour pasta in a big saucepan and pour 1/4 cup of extra-virgin olive oil: stir;
2. to make pesto:  in a food processor or blender, blend together basil, nuts, garlic, and cheese and oil. Pour in oil slowly while still mixing;
3.  blend pasta with pesto, then tuna, olives and salt.
4. let the pesto pasta salad cool and serve in glasses
PANNA COTTA WITH BERRIES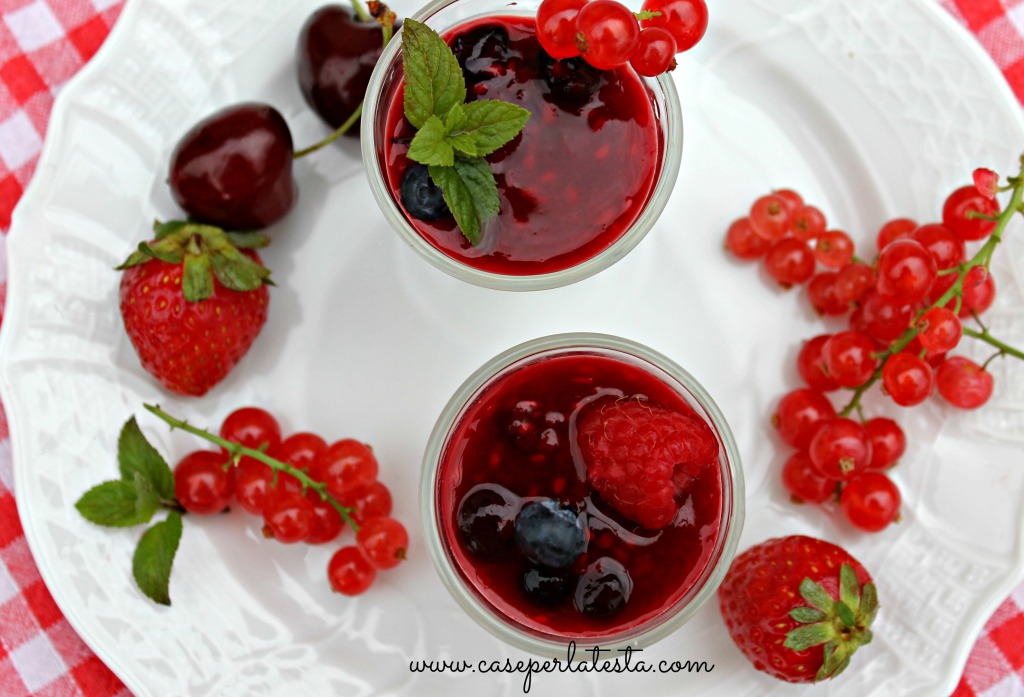 Panna cotta ( literally means "cooked cream")  is a pudding that is made of dairy thickened with gelatin. Panna cotta it's an easy dessert, perfectly creamy, quick  and accommodating to many dietary adjustments, being naturally gluten-free and adaptable to dairy-free and vegan diets and most of all it's soooo yummy!  You  need a few ingredients, such as milk, cream, gelatin, vanilla,  often  we don't even use milk and cream but half and half.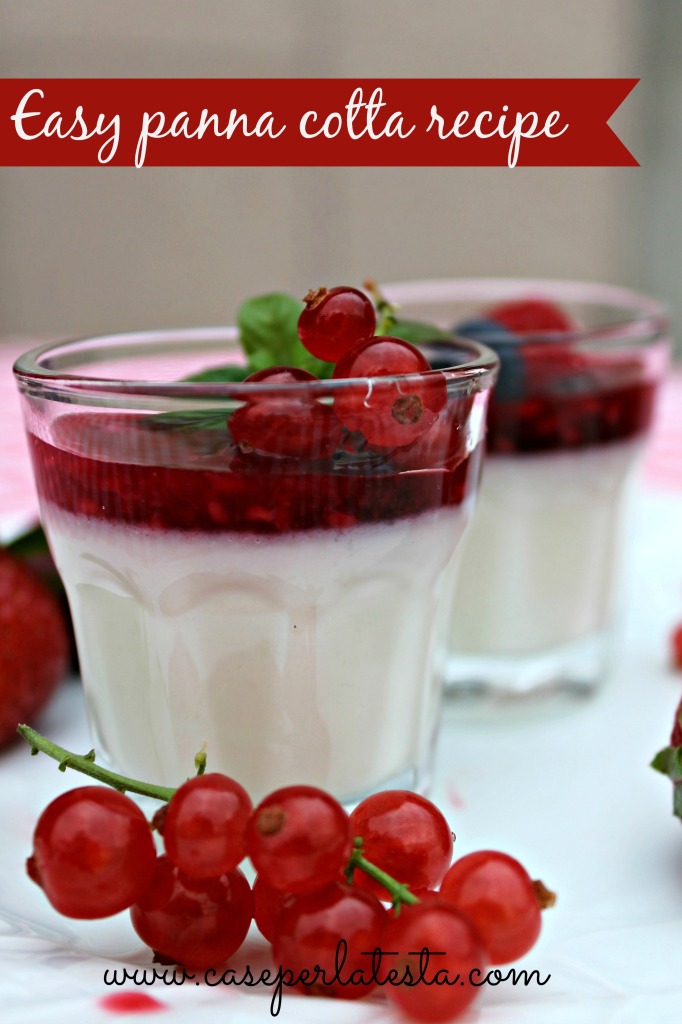 What you need: (for 6 ramekins (or glasses)
– 3 teaspoons powdered gelatin
– 1/3 cup sugar
– 1 1/2 cups  heavy cream
– 1 teaspoon  vanilla extract
– pinch salt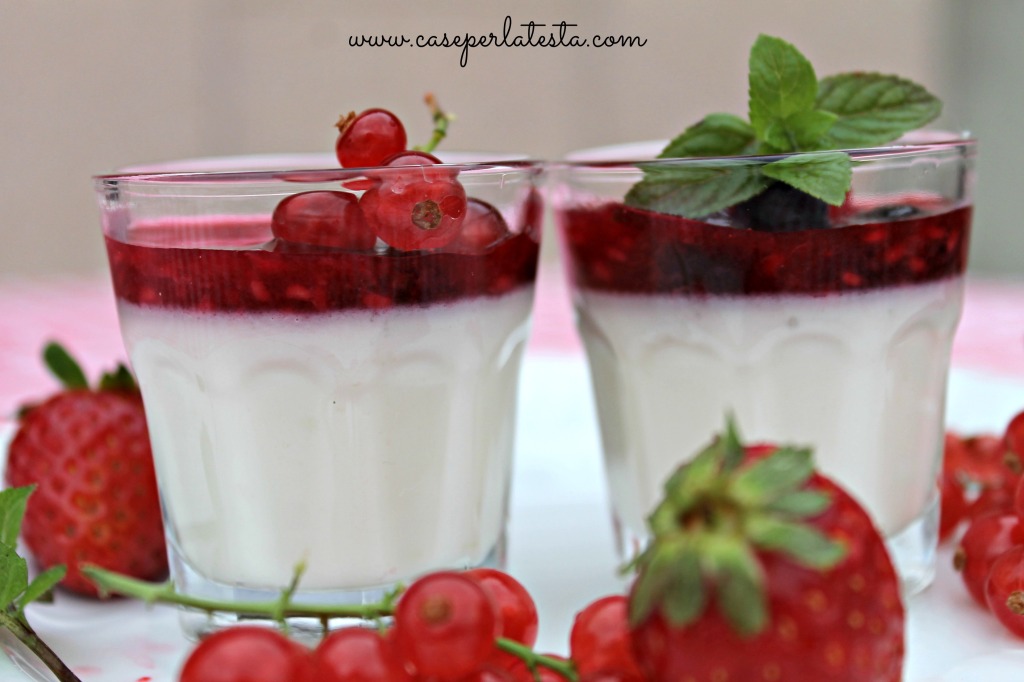 How to:
1. if you use ramekins or a single mold, put them in cold water and let them soak;
2. pour the milk into a saucepan and sprinkle the powdered gelatin evenly over top. Let soften for 5 minutes, then set the saucepan over low heat and warm the milk gently, stirring or whisking frequently. The milk should never boil or simmer;
3. after  3 minutes of warming check if the gelatin is dissolved;
4. stir in the sugar and let it dissolve, it will take 2 more minutes;
5.  remove the saucepan from the heat. Whisk in the cream, vanilla, and a pinch of salt;
6. divide the mixture evenly between the prepared ramekins, of course drained wrom water, (or in the single serving mold)  and put in the refrigerator to chill. If serving straight from the cups, without unmolding, chill for 1 to 2 hours but  if you want to unmold the panna cotta, chill for at least 4 hours;
7. to unmold prepare a bowl of hot water: run a thin knife around the sides of a ramekin.  Dip the ramekin in the warm water up to its rim, and hold it there for about 3 seconds, then invert the ramekin over the plate and shake gently to help the panna cotta fall out: done!
You can garnish panna cotta with fresh berries, as we did,  or drizzle with caramel or chocolate sauce or sprinkle with chopped nuts: panna cotta is always delicious!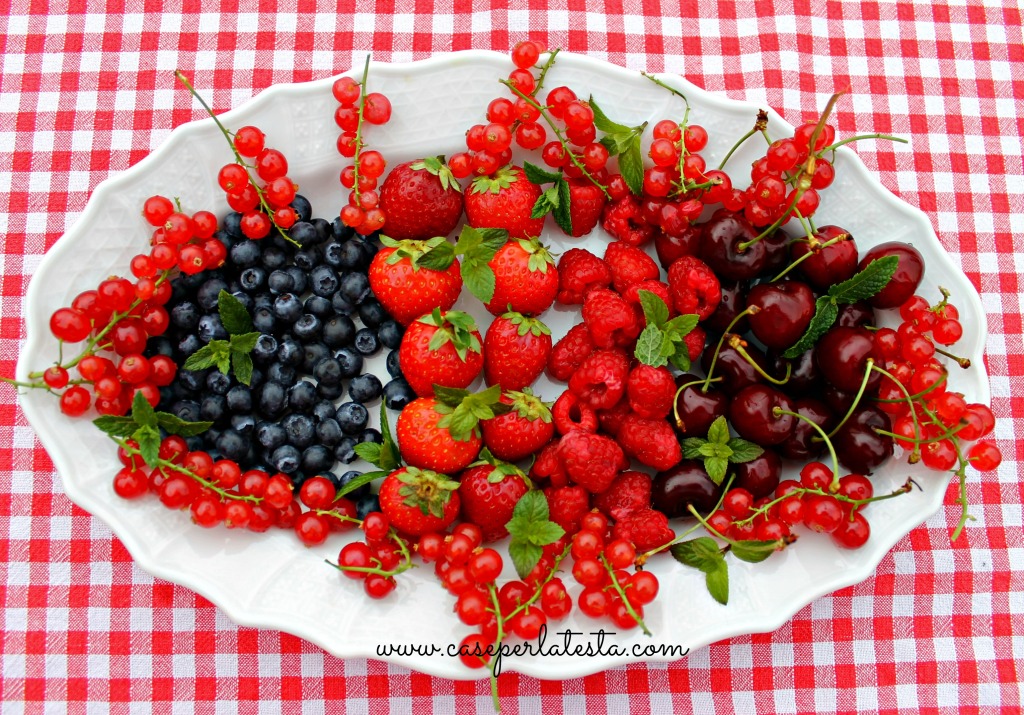 Salva
Salva