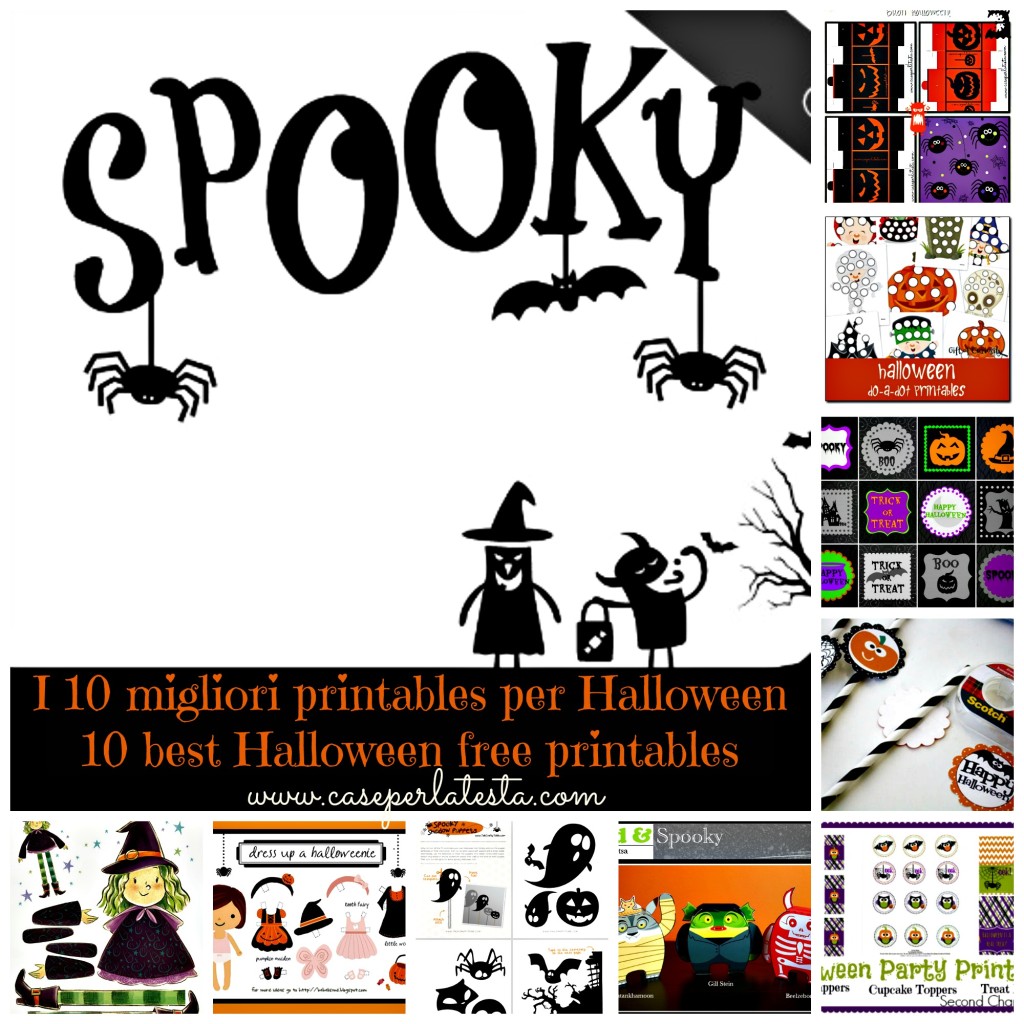 Ci siamo, ci siamo ragazze! Halloween è alle porte! due settimane e sarà la sera più… spooky, spaventosa dell'anno! Oggi vorrei proporvi la nostra raccolta dei 10 migliori printables per Halloween che il web offre: pronte? avete fatto scorta di inchiostro per la stampante?? e allora viaaaaaaa!!!!!
Here we go, we girls! Halloween is coming! two weeks from now and will be the evening more … spooooooky of the year! Today I would like to offer you our collection of the 10 best Halloween printables: ready?? Have you stocked up on ink for your printer ? and then let'gooooo!
Una bellissima collezione di etichette per il party di Halloween lo trovate da Second Chanche to dream : simpaticissime e molto utili!
A beautiful collection of labels for an Halloween party can be found at Second Chanche to dream : very funny and useful!
Crystalandcomp propone per i bimbi delle schede da colorare: i disegni hanno dei puntini bianchi che devono essere colorati in modo corretto. Quindi i nostri bimbi prima si divertiranno a colorare o a riempire con degli stickers i pallini bianchi e il risultato finale potrà essere utilizzato per decorare la casa per Halloween.
Crystalandcomp proposes worksheets for preschool to color: white dots on drawings have to be colored properly. So our children will enjoy coloring or filling with stickers the white dots and the result can be used to decorate home for Halloween.
Un'idea originale e davvero bella: bamboline di carta da vestire con abiti … da brivido! Nooo è uno scherzo! Babalisme propone delle dolcissime bamboline di carta da stampare, incollare su cartoncino, ritagliare e vestire: da fare subito!
An original and really really nice idea: paper dolls with clothes to dress … thrilling ! Nooo it's a joke ! Babalisme proposes sweet paper's dolls to be printed, paste on cardboard, cut out and dress up : what are you waiting for? Start now! I'll do!
E che dire di Goobeetsa che propone dei mostriciattoli da stampare  in 3D? Non sono dolcissimi? ehh no, volevo dire … spaventosissimi??
And what about Goobeetsa that presents little monsters in 3D to print? Are they not sweet ? ehh no, I mean … reaaaally spooky!
E dove mettiamo i dolcetti? Ma qui, nelle scatoline che noi abbiamo proposto in questo post! Semplicissime da fare: devono essere però riempite di cose buone!
And where can we collect candies? But here, in the boxes that we brought in this post here ! Very easy to do, need to be filled with good things!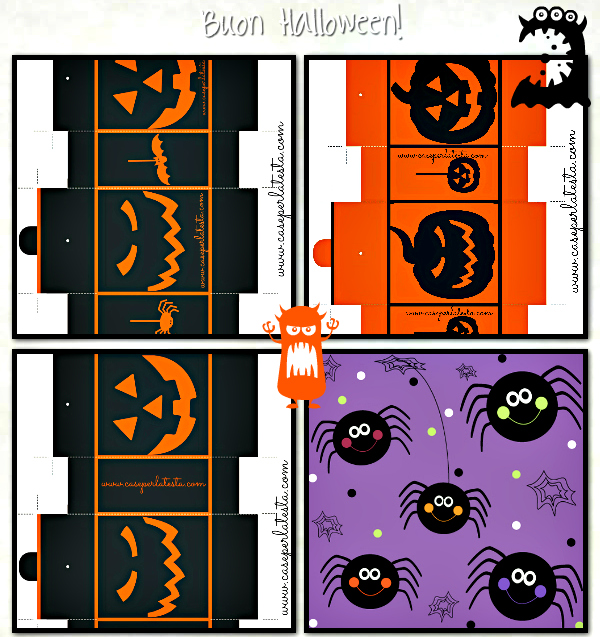 Marie di Let's pour tea ci regala una fantastica collezione di cupcake toppers che possono anche essere utilizzate per creare una ghirlanda oppure, se stampate su carta adesiva, come etichette. Il suo tutorial è molto chiaro ed esaustivo e le immagini sono proprio carine!
Let's pour tea gives us a beautiful collection of cupcake toppers that can also be used to create a garland or, if printed on adhesive paper , as labels. Her tutorial is very clear and comprehensive and pictures are really cute!
Continuando con la collezione di printables per Halloween, ecco una tenerissima streghetta da stampare e montare: di certo non può proprio spaventare, vero? E' semplicemente bella ed è proposta da Jennifer A. Bell una delle incredibili artiste che trovate su We love to illustrate.
Continuing with the collection of printables for Halloween , here's a sweet witch to print and assemble : certainly not scaring, right? It 's just beautiful and is offered by Jennifer A. Bell one of the amazing artists that we can found at We love to illustrate.
Ecco una bella idea, semplice e d'effetto: delle sagome da ritagliare e applicare o sui vetri oppure attaccare a uno stecco in legno lungo (quelli da spiedino, per intenderci) e mettere in giro per la casa, davanti a una lampada: l'effetto terrificante è garantito! La propone Talk crafty to me.
A nice idea, simple and striking: shapes to cut out and apply, or on the glass or stick to a lollypop stick and put around the house, in front of a lamp: a terrifying effect is guaranteed ! Proposed by  Talk crafty to me
Skip to my Lou propone delle belle immagini da attaccare sulle cannucce: il piccolo formato permette anche di applicarle su dolcetti, cioccolatini per personalizzarli. Proprio dei bellissimi disegni!
Skip to my Lou offers some nice pictures to attack on straws: small size allows you to apply them on sweets, chocolates to customize them. Beautiful designs!
Cosa possiamo attaccare alle finestre la notte di Halloween? Quest'immagine: buffa e… spaventosissima! Non è vero, è proprio carina! La trovate su Carrieelle, che ne propone anche altre!
What can we stick to the windows on Halloween ? This image : funny and … frightful ! It is not true, it's really pretty ! You can find it on Carrieelle, which also offers other!
Che ne dite di questa raccolta dei 10 migliori printables per Halloween? Non vi viene voglia di iniziare subito? E allora via, liberate la fantasia!
What do you think of this collection of the 10 best Halloween printables? Aren't your eager to start immediately to print? Let's go, free your imagination!