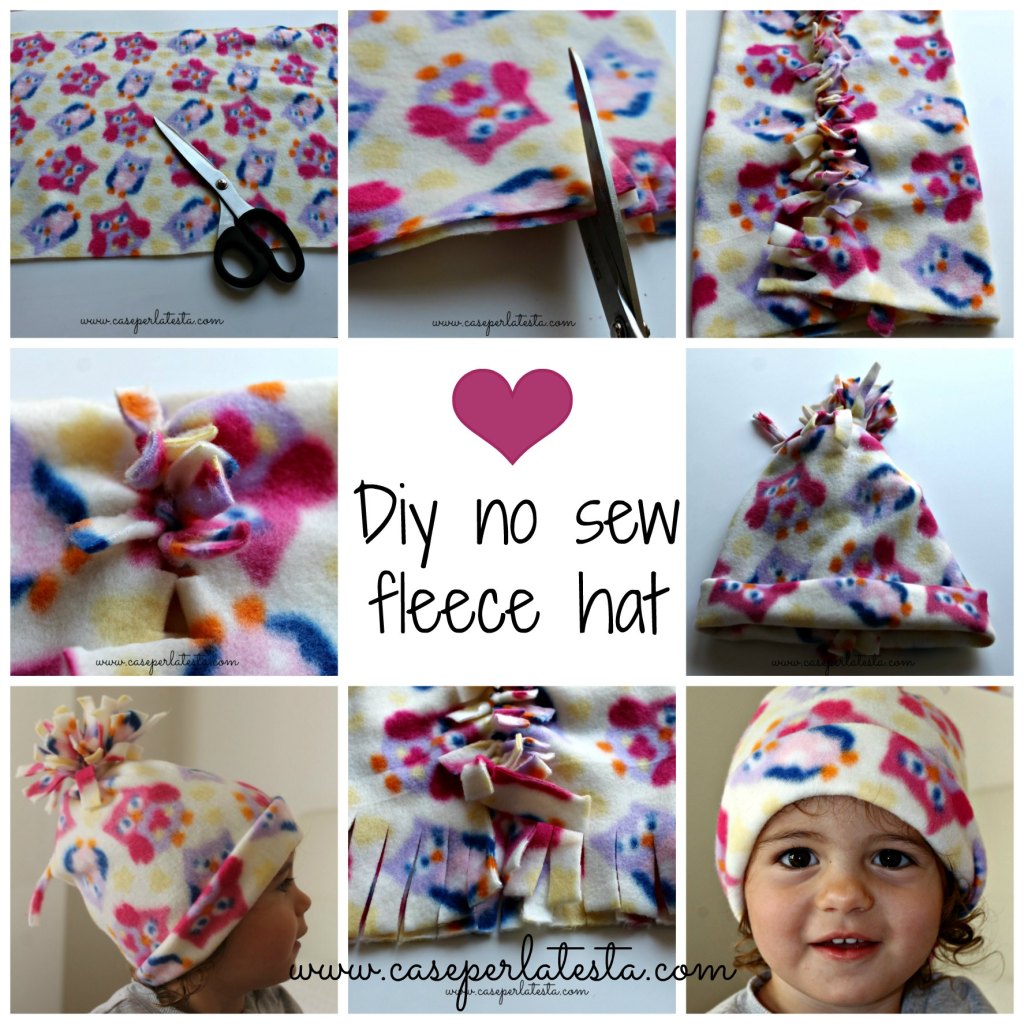 Brrrr! Non so da voi, ma qui sta davvero iniziando a fare freddo. Miss B, per fortuna,  adora i cappelli (a differenza della sua mamma che li mette a fatica giusto in alta montagna!) il che è stato un'ottimo motivo per realizzare un cappellino in pail senza cucire  nemmeno un punto!
E' molto facile e divertente da fare! Volete sapere come? Seguitemi!
I don't know about you, but here is really starting to get cold. Miss B, thankfully, loves hats (unlike her mother who won't put on one even if her ears drop off frozen!) which was a very good reason to make a  no sew fleece hat, without a single stitch!
It 's very easy and fun to do! Want to know how? Follow me!
1. Servono: pail, forbici, righello, matita. Le dimensioni in cui tagliare il  pail, per bimbi fino a 3 anni circa, sono 35cm x 50cm. Per adulti 40cm x 60cm: basta misurare la circonferenza della testa e aggiungere circa 8 o 10 cm.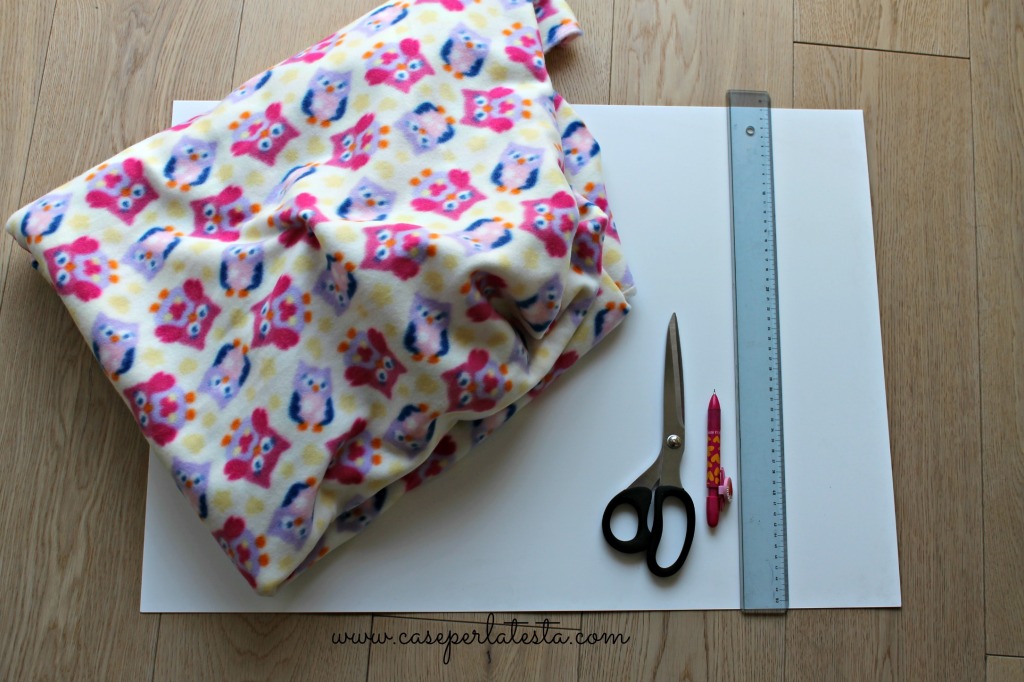 1. You'll need: fleece, scissors, ruler, pencil. The size  to cut the fleece, for children up to 3 years, are 35cm x 50cm. For adults 40cmx60cm: simply measure the circumference of your head and add about 8 or 10 cm. 
2. Piegare il pail sul lato lungo e tagliare, a distanza di circa 1,5 cm tante frange per circa 3 cm di profondita, fermandosi a 10 cm dal lato opposto a quello da cui si è partiti.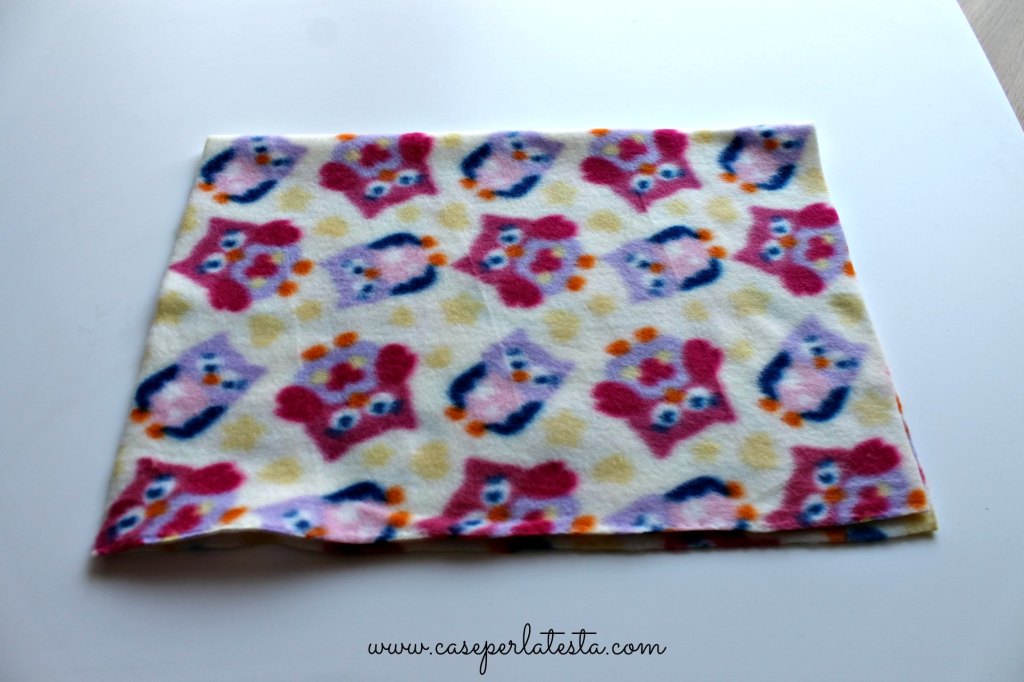 2. Fold the fleece on the long side and cut at a distance of about 1.5 cm so many fringes for about 3 cm deep, stopping at 10 cm from the side opposite to that from which it started.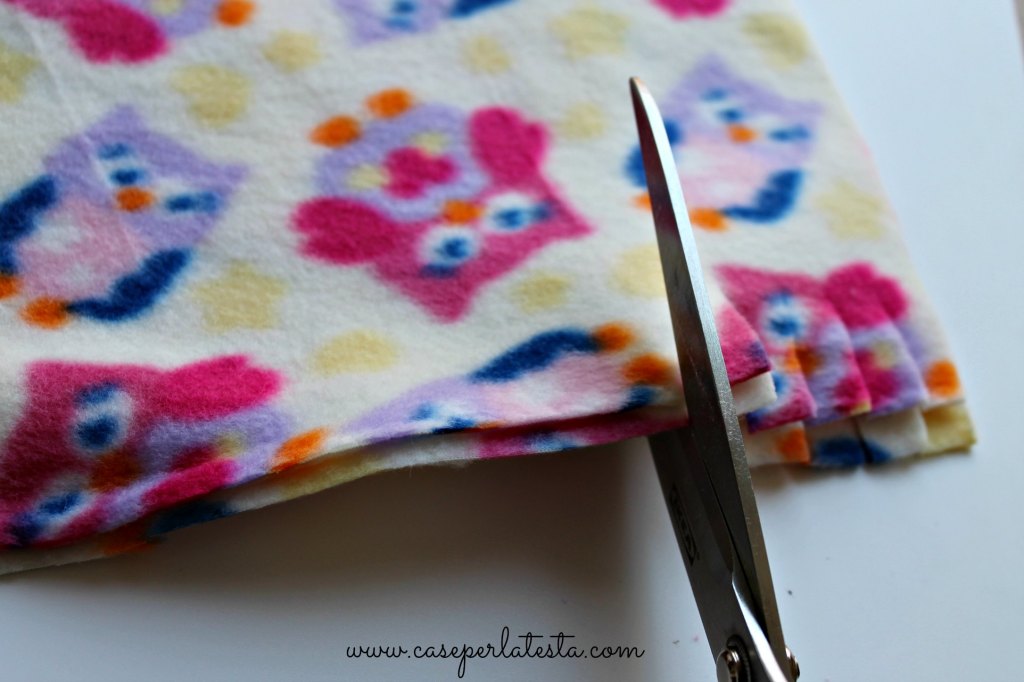 3. Appaiare le frange e annodare con un nodo piatto doppio per tutta la lunghezza.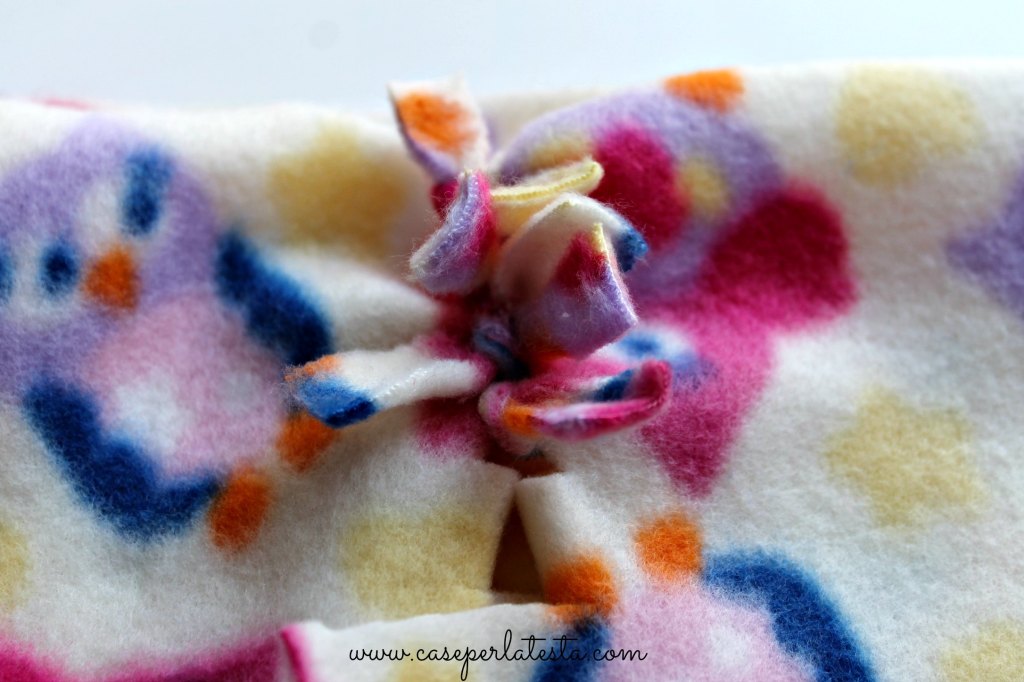 3. Pairs fringes and tie a double  knot  for the entire length.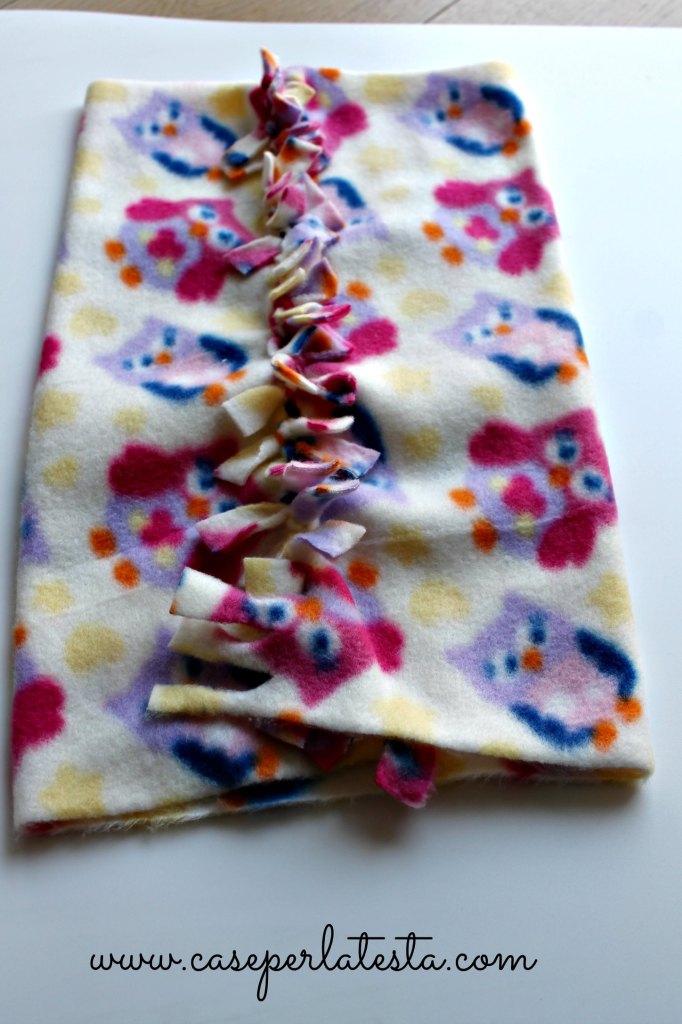 4. Tagliare delle frange larghe 1,5 cm e lunghe circa 8 cm sul lato corto.
4. Cut fringe width 1.5 cm long and about 8 cm on the short side.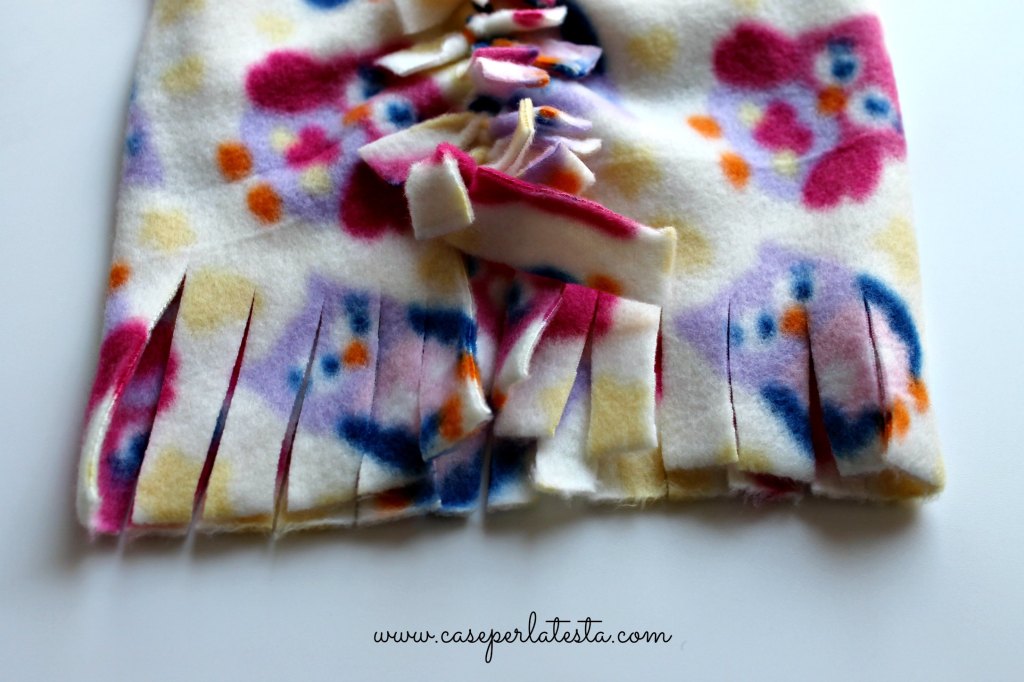 5. Risvoltare il pail in modo da non vedere i nodini e poi legare con un pezzetto di pail o un nastrino colorato le frange, in modo da creare un pom pon.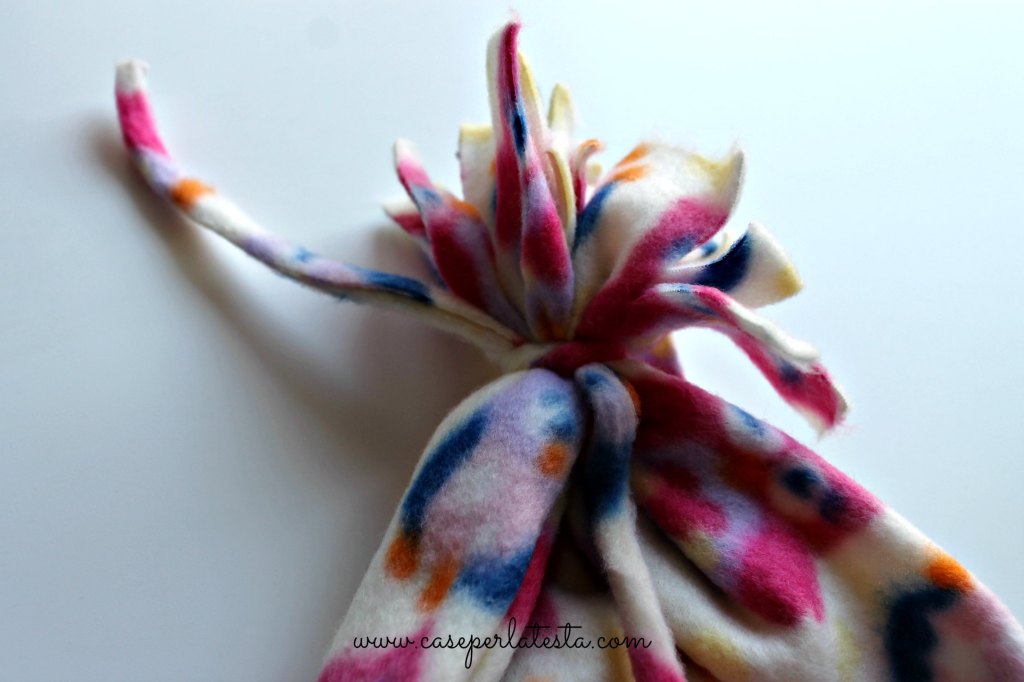 5. Fold the fleece so you don't see the knots and then tie fringes with a piece of fleece or a colored ribbon, in order to create a pom pon.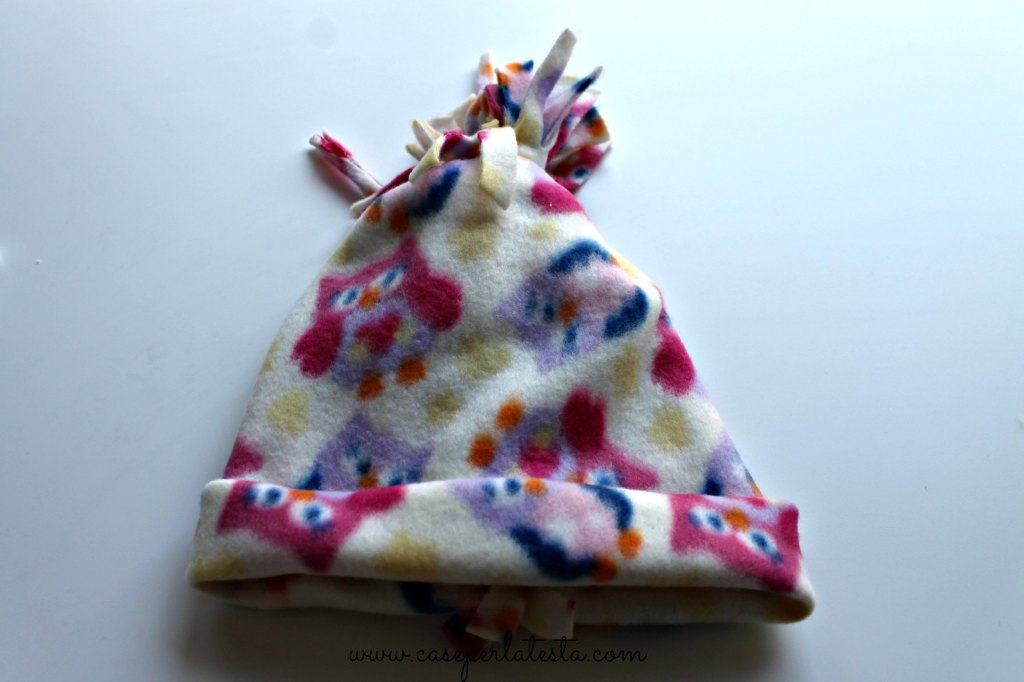 Fatto! E' stato semplice fare questo cappellino in pail senza cucire, vero? E' un'idea carina come regalo fai da te per i bambini della famiglia e degli amici. Devo mettermi al lavoro!
Done! It  was easy to do this  no sew fleece hat, right? It 'a nice idea as DIY gift for  children of family and friends. I have to get to work!