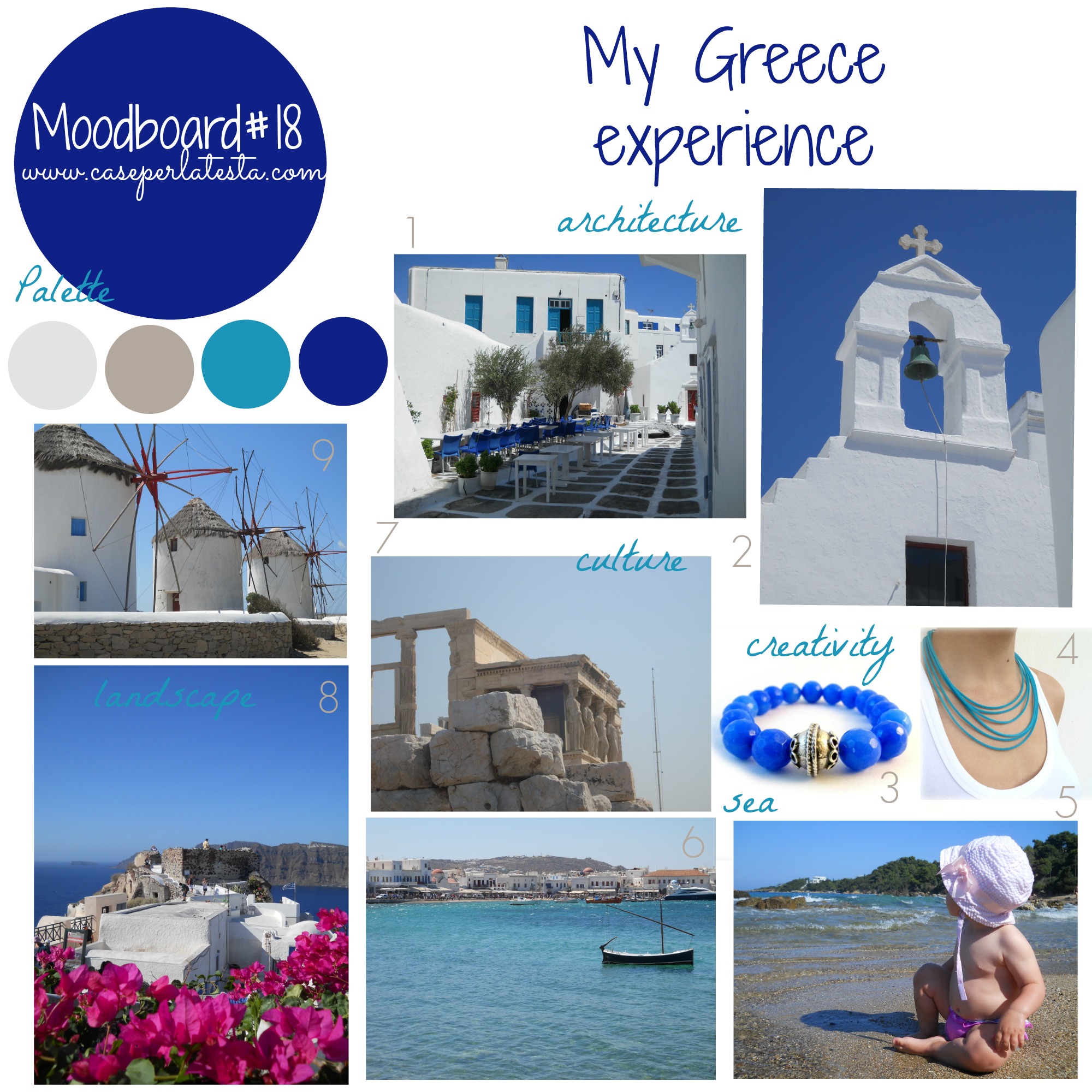 1. 2.6. 9 Mykonos 3.Bracelet 4. Necklace 5. Olimpia 7. Athens 8. Santorini
Questa settimana la mia moodboard è dedicata alla Grecia, o meglio, è dedicata alle care amiche Greche che abbiamo avuto la fortuna di conoscere attraverso i loro blog e siti! Sono ragazze fantastiche, piene di creatività, entusiamo; non so dire la quantità di informazioni, idee, spunti di cui mi sono arrichita seguendole! E voglio condividere con voi  i nomi e i link ai loro interessantissimi blog, in ordine casuale : Marina & Olga di To e-periodiko mas, Zina di Ef -Zin creations, Akamatra di Akamatras, Ntina di Happy, girly, crafty, Vasso di I-messy, Aleka di Aleka Craftaholic, Dimi di Aussi Dimi Decoupage, Demetra di Decor Asylum, Christina di Art Decoration and Crafting. Così ho pensato di  riunire in una moodboard alcune foto che ho fatto in questi anni durante i miei viaggi in Grecia, anche perchè l'estate si sta avvicinando e io sono già entrata con la testa in modalità "vacanza". Io per ora ho visitato alcune delle località più tradizionali del turismo in Grecia….mi mancano ancora tantissimi luoghi bellissimi…ma recuperò presto! Dite la verità….state già pensando ad un viaggio in grecia anche voi?
This week my mood board is dedicated to Greece, or rather, is dedicated to the dear Greek friends we had the good fortune to meet through their blogs and websites! These ladies are fantastic, full of creativity, enthusiasm; I do not know the amount of information, ideas that I have enriched following them! And I want to share with you the names and links to their interesting blogs, in random order: Marina & Olga of To e-periodiko mas, Zina of Ef -Zin creations, Akamatra of Akamatras, Ntina of Happy, girly, crafty, Vasso of I -messy, Aleka of Aleka Craftaholic, Dimi of Aussi Dimi Decoupage, Demetra of  Decor Asylum, Christina of Art Decoration and Crafting. So I decided to bring together in a moodboard some photos I took in these years during my travels in Greece, also because summer is approaching and I have already entered  in a "holiday" mode. II have visited, for now, some of the most traditional site of tourism in Greece …. I still miss many beautiful places … but I will recover soon! Tell the truth …. are you planning a trip to Greece too?
Salva