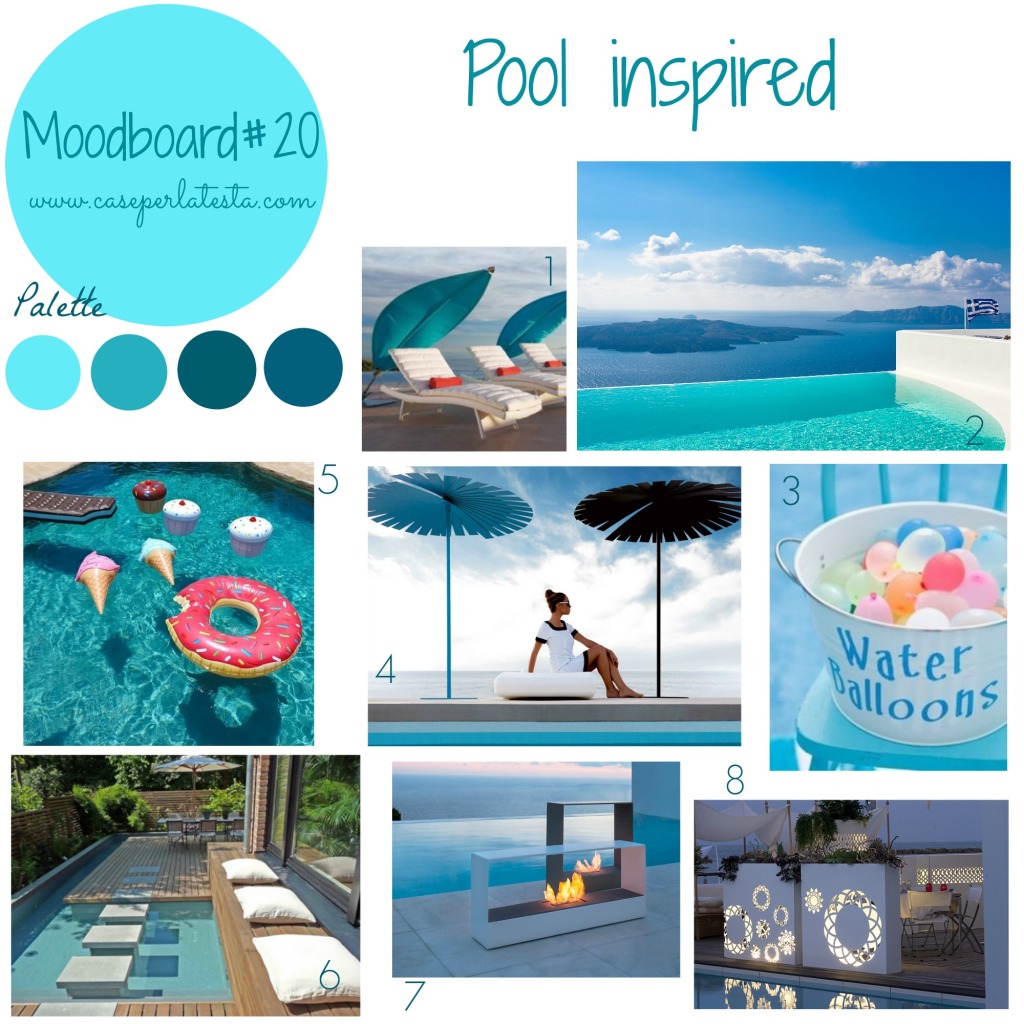 In questi giorni di caldo, in fondo siamo nel pieno dell'estate, il desiderio di rinfrescarsi con un bel tuffo in mare o piscina penso accomuni molte persone!
Io per ora sono  inchiodata alla sedia dell'ufficio….mi consolo creando una moodboard ispirata alle piscine….e una palette nei toni dell'azzurro! Indipendentemente dal fatto di poter andare al mare o in piscina… una cosa l'ho decisa….devo assolutamente avere uno dei quei gonfiabili golosi a forma di dolce della foto 5, il donut è fantastico ma anche i cupcakes sono stupendi! Posso usarli anche a casa o in giardino, no?! Due idee originali e un pò diverse per godersi un pò di ombra sono l'ombrellone di design di Gandia Blasco (4), o le foglie colorate di Umbrosa (1). Raffinatissimo e complemento perfetto per le serate in compagnia di amici a guardare le stelle cadenti il caminetto per esterno (7) – lo so…ho detto che fa caldo…ma alla sera si alza sempre una leggera brezza, no?- del designer Borja Garcia, accompagnati solo dai decori di luce delle fioriere luminose in metallo intagliato di By Steel (8). Magari prima di un bel tuffo…si può sempre fare una battaglia a bombe d'acqua! (3). L'ho già detto che mi piace da impazzire la piscina della foto 6? No? Non mi dispiacerebbe che lo spazio esterno di casa mia fosse organizzato così…eh,eh,eh! Nell'attesa di realizzarlo…posso sempre consolarmi ritornando a Santorini e soggiornare in uno degli hotel che si affacciano sulla caldera…magari quelli con una piscina come nella foto 2….dove rilassarsi e godersi la strepitosa vista!
In these hot days, after all we are in the middle of summer, the desire to take a refreshing dip in the sea or pool is common to many people! For now I'm nailed to the office chair …. I console myself by creating a moodboard inspired by the pools …. and a palette in shades of blue! Regardless of the fact that you can go to the beach or by the pool … one thing I decided …. I must have one of those cute sweet shaped pool float as in photo 5, the donut is fantastic but the cupcakes are wonderful ! I can also use them at home or in the garden, no ?! Two original and a bit different to enjoy a bit of shade are the umbrella design of Gandia Blasco (4), or the colorful leaves of Umbrosa (1). So stylish and a perfect complement for evenings with friends, for watching falling stars, is this outdoor fireplace (7) – I know … I said that it's hot … but in the evening it gets more and a light breeze, is not it? – designed by Borja Garcia, accompanied only by the light of these planters, metal carved By Steel (8). Perhaps before a dip … you can always do a battle with water bombs! (3). I've said that I love  the pool in photo 6? No? I would like that the outdoor of my home was organized like in the one in this picture … eh, eh, eh! While waiting to make it happen … I can always console myself returning to Santorini and stay in one of the hotel overlooking the caldera … maybe those with a pool like  picture 2 …. to relax and enjoy the great views!
Salva