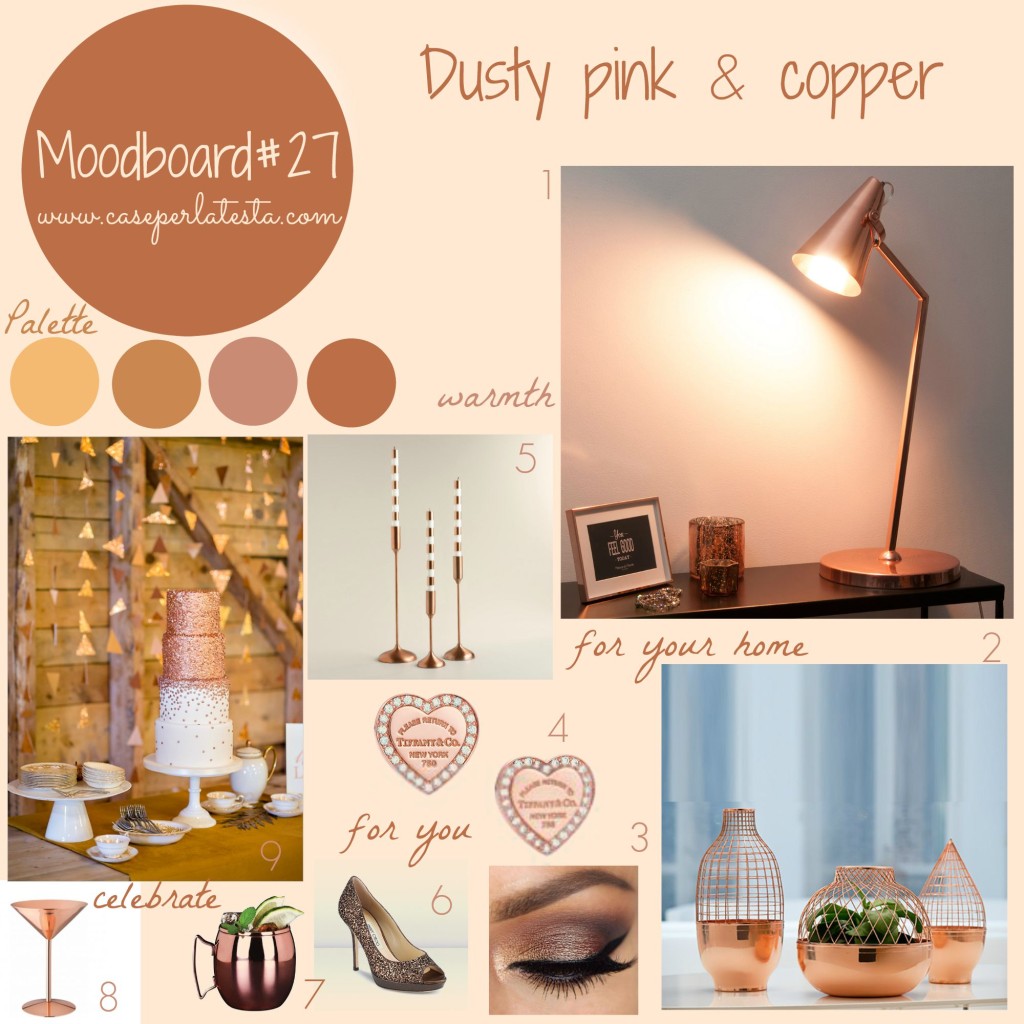 1 – 2 – 3 – 4 – 5 – 6 – 7 – 8 – 9
Dopo giorni si sole pieno e caldo in cui l'autunno sembrava essere più sulla carta che nella realtà, sono arrivate le prime giornate un pò autunnali, con il cielo grigio, qualche foschia in lontananza, la prima aria fresca, e con esse la voglia di un pò di calore. After days full of sun and warm, in which the autumn seemed to be more on paper than in reality, finally came  first days a little autumn, with gray skies, some mist in the distance,  first fresh air, and with them the desire a bit of heat.
Questa settimana mi sono fatta scaldare dai colori del rame e del rosa polvere, li trovo bellissimi; il rame in particolare è un materiale che amo molto, mi piace la sua tinta, la lucentezza, i riflessi che emana. Negli ultimi anni, i designer hanno creato sempre più oggetti con questo duttile materiale, caratterizzati, spesso, da forme e linee pure e definite; io sto riflettendo su quanto potrebbe essere perfetta la lampada da tavolo della figura 1, di Maison du Monde, per completare il mio angolo craft a casa! Non vorremo lasciare da sola una lampada così bella, no? I vasi (2)e i porta candela (5)in rame sono perfetti per completare il living! Festa o matrimonio d'autunno in vista? La palette proposta è perfetta per il trucco (3) e gli accessori (6) (4), o, perchè no, per la torta (9)!
This week I enjoyed copper and pink powder colors, I think they're really beautiful; copper, in particular, is a material that I love very much, I like its color, brightness, reflections. In recent years, many designers have created many items with this ductile material, characterized, often, by shapes and pure lines; I'm reflecting on how it could be perfect the table lamp in Figure 1, find at  Maison du Monde, to complete my craft corner at home!  Those vessels (2) and the candle holder (5), both copper made, are perfect to complete the living! Autumn themed Party or wedding  in sight? The color palette is perfect for your makeup (3) and accessories (6) (4), or, why not, for the cake (9)!
Salva