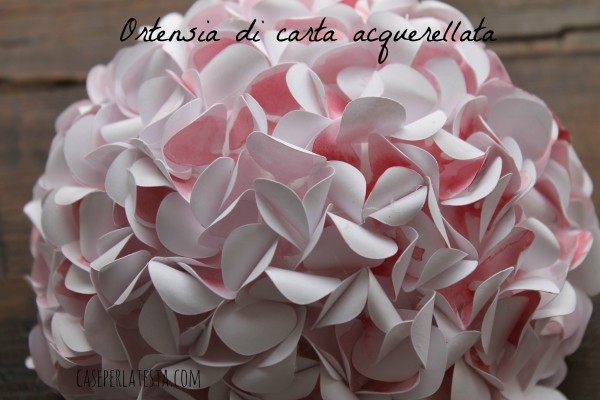 Adoro le ortensie. Ma proprio tanto. Al mio matrimonio avrei voluto che le decorazioni floreali fossero solo con ortensie ma purtroppo non era stagione… che peccato. I love hydrangeas. Really really very much.  At my wedding I'd loved if  the floral decorations were only with hydrangeas but unfortunately it was not the season … what a pity.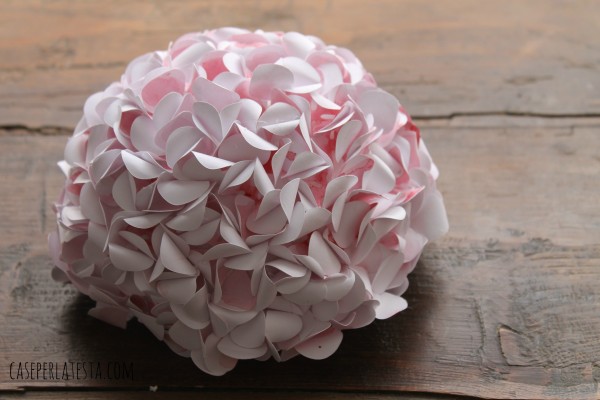 Oggi vi mostro l'ortensia di carta acquerellata che ho appena finito. E' probabile che sarà la prima di una lunga serie di fiori in carta che sto preparando e che man mano vi farò vedere.  Today I show you this  watercolor paper hydrangea that I just finished. And it's likely to be the first in a long series of paper flowers  that I am preparing, and  I will show.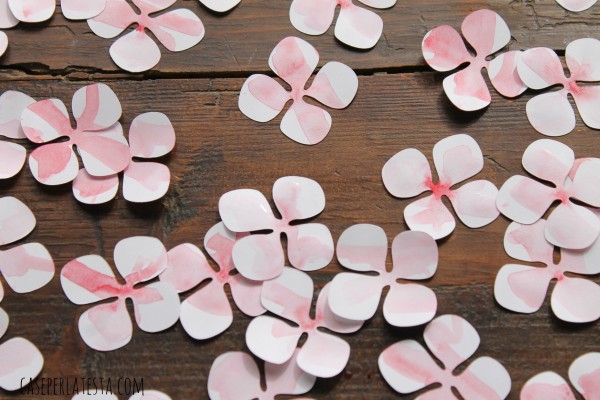 L'ortensia di oggi è fatta in cartoncino bianco che ho poi acquerellato: questa resa mi piace davvero molto perchè mi ha permesso di ottenere un risultato cromatico unico e speciale.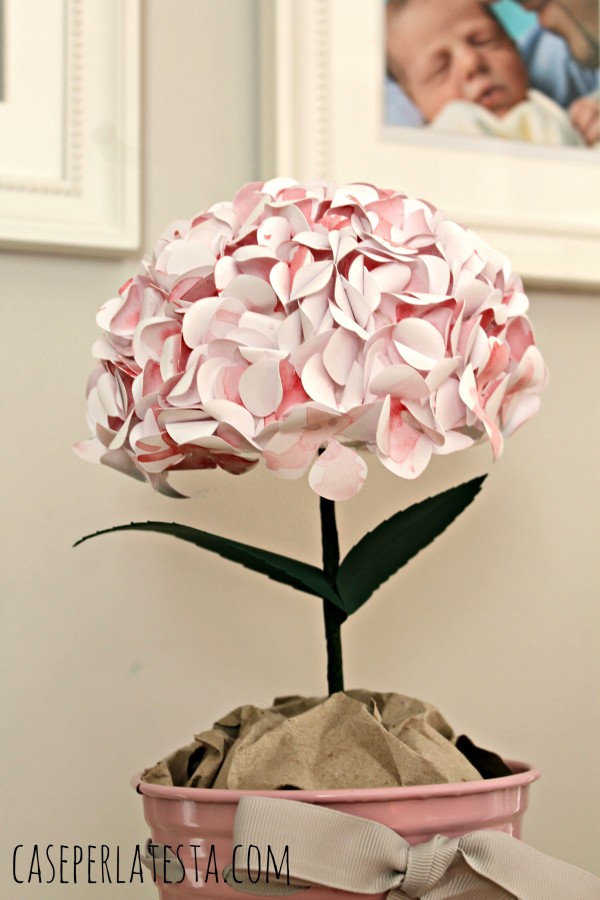 The hydrangea is  made in white paper which I then wash: I love the result  in a unique and special color output.
Il procedimento è semplice:  The process is simple:
tagliare tanti fiorellini (io ne ho usati quasi 100) e acquerellarli: più il colore è casuale più viene bello;  cut flowers (I have used nearly 100) and watercolor them: random color  is more beautiful;

quando la carta è ancora un po' umida, arricciare leggermente i petali con il dorso di un paio di forbici;  when the paper is still a bit 'moist, slightly curl the petals with the back of a pair of scissors

incollare con la colla a caldo i fiorellini su una semisfera di polistirolo.  paste with hot glue the flowers on a styrofoam hemisphere.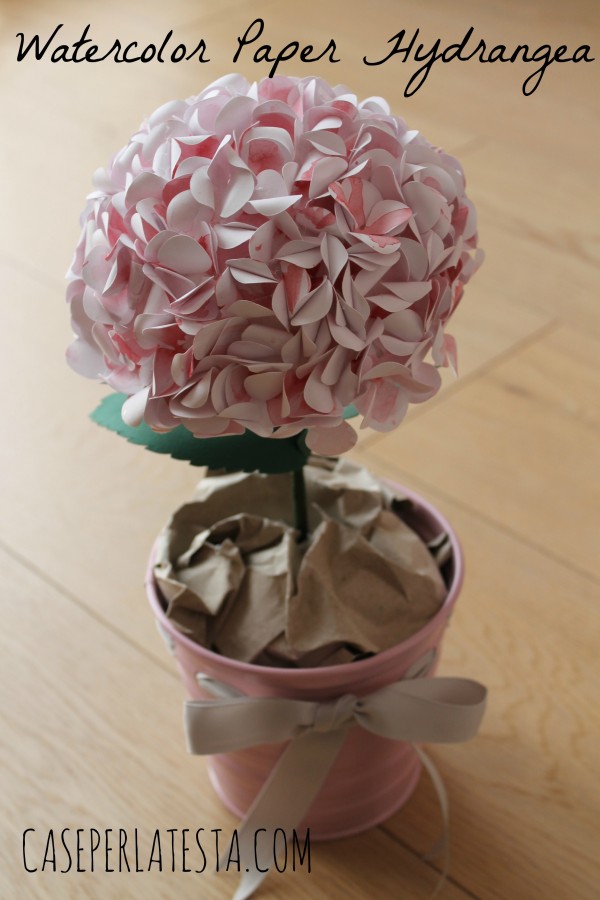 L'ortensia di carta acquerellata che si ottiene può essere utilizzata in svariati modi: come elemento singolo di decorazione, in  un mazzo, in una coroncina. The watercolor paper hydrangea that is obtained can be used in various ways: as a single element of decoration, in a bunch, in a wreath.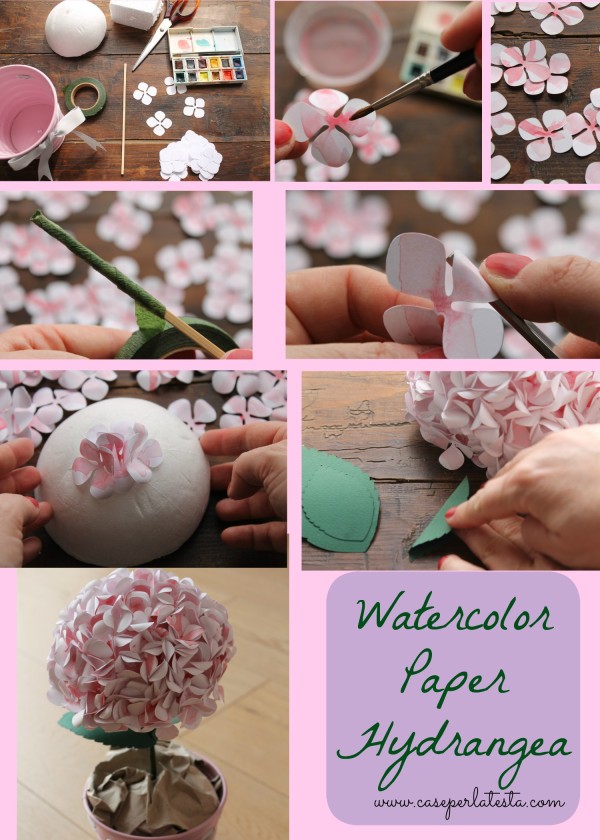 Se  desideri il template in pdf e  il file svg li puoi trovare qui. If you want the template in pdf and svg files you can find them here.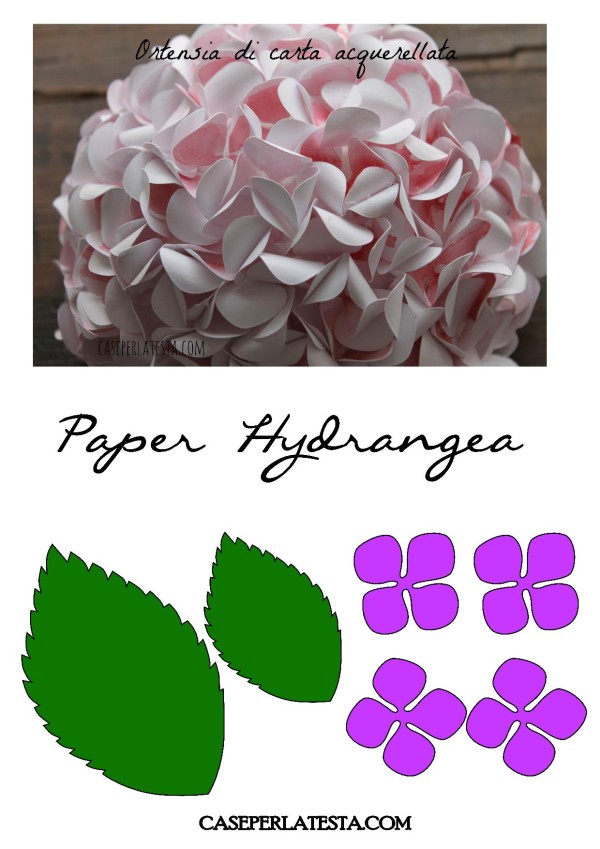 Salva
Salva