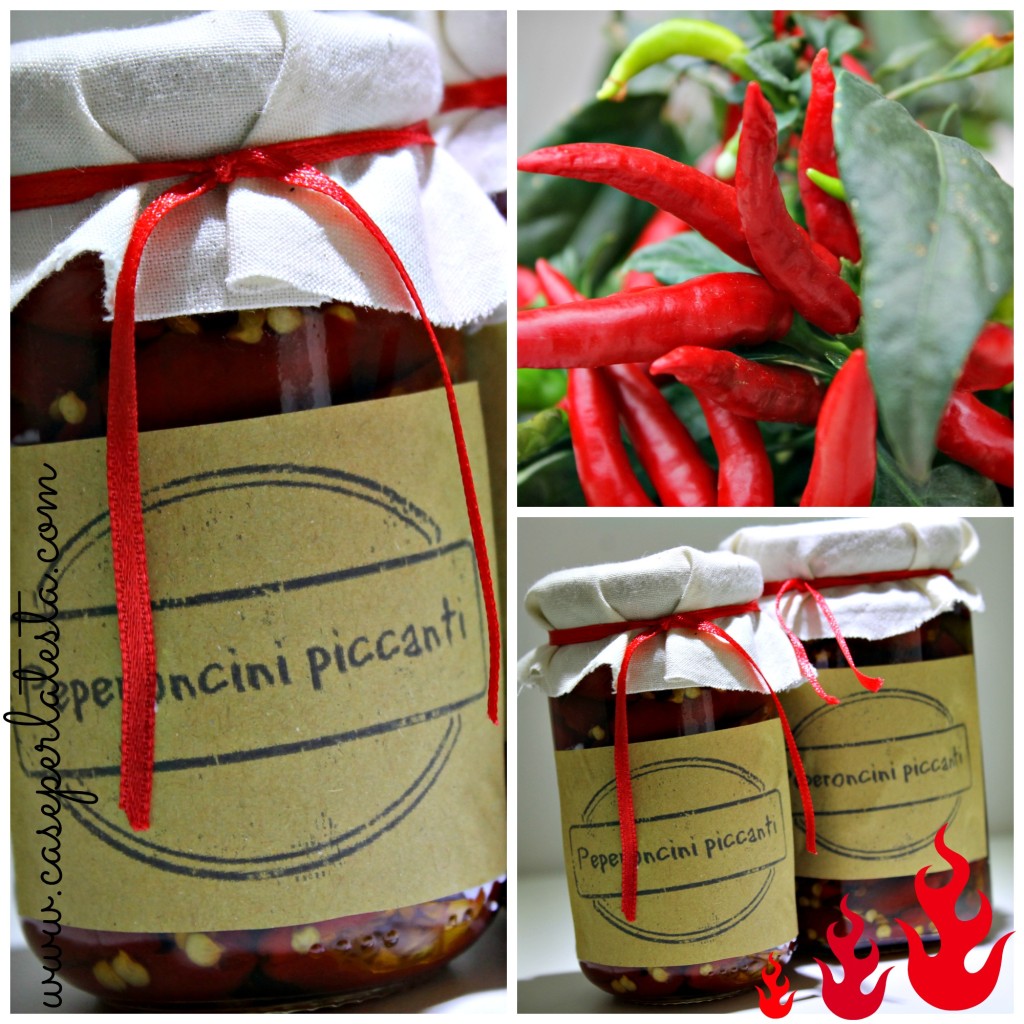 Oggi vi svelerò la ricetta segreta per i peperoncini piccanti sott'olio tramandatami da mia nonna: è tanto semplice quanto efficace, non mi è mai successo che i peperoncini andassero a male.
Today I will reveal you the super secret recipe for pickled hot peppers handed down to me from my grandmother: it's so simple and effective, it never happened that the peppers go bad.
Raccogliere i peperoncini (o comprarli! ;)), togliere il picciolo e passarli con un foglio di carta inumidito ma non bagnato: è questo il segreto, mai pulirli direttamente con acqua! Poi tagliare i peperoncini per il lungo e togliere i semi. A questo punto mettere i peperoncini in uno scolapasta o setaccio, salarli leggermente e lasciare che perdano l'acqua di vegetazione. Sarà necessario un tempo variabile tra le 24 e le 36 ore circa, di tanto in tanto scuoterli leggermente per favorire la perdita dell'acqua.
Collect the chiles (or buy them 😉 ), remove the stem and wipe them with a sheet of paper moistened but not wet: this is the secret, never clean it directly with water! Then cut the peppers lengthwise and remove seeds. At this point, put the peppers in a colander or sieve, salt them lightly and let lose the water of vegetation. It will take a time varying between 24 and 36 hours, occasionally shake slightly to favor the loss of water.

Trascorso il tempo necessario (a un certo punto i peperoncini piccanti si saranno leggermente ammorbiditi e non rilasceranno più acqua), asciugarli leggermente con un canovaccio e iniziare a disporli in vasi di vetro, aggiungendo ogni tanto uno spicchio d'aglio e qualche chicco di pepe. Quando ogni vaso è pieno, aggiungere olio extra vergine di oliva, e scuotere  leggermente il barattolo per far andare via l'eventuale aria. Lasciare riposare i barattoli aperti per tutta una notte, coprendoli con un canovaccio: il giorno dopo controllare che l'olio arrivi fino al bordo del barattolo, se necessario aggiungerne ancora. Tutti i peperoncini dovranno essere coperti dall'olio. A questo punto chiudere bene i tappi e lasciare riposare i barattoli per almeno 1 mese prima di aprirli.
After this time (at the end  hot peppers will be slightly softened and will not issue more water) wipe them lightly with a cloth and start to put them in glass jars, occasionally adding a clove of garlic and a few grains of pepper. As each jar is full, add extra virgin olive oil, and shake the jar lightly to fade away any air. Allow to stand the jars open for a whole night, covering them with a cloth: the day after check that the oil reaches the edge of the can, if necessary add more. All the peppers must be covered by the oil. At this point, close the caps and leave the jars in a dark cupboard for at least 1 month before opening them.
I peperoncini così conservati sono perfetti per ogni piatto piccante: possono essere usati interi o sminuzzati, l'olio di conservazione poi è una delizia! Un cucchiaino di questo olio rende piccante ogni piatto, provate con la pasta: una delizia!
Attenzione: i peperoncini piccanti possono provocare reazioni allergiche. Durante la preparazione di questi vasetti, indossare appositi guanti e proteggere gli occhi!
E voi avete delle ricette segrete tipiche della vostra famiglia?
Se volete la ricetta supersegreta per fare il limoncello più buono che ci sia, seguitemi qui!
 Preserved peppers are perfect for any spicy dish: can be used whole or cracked, and conserving oil is a delight! A teaspoon of this oil makes each dish spicy, add on  pasta : a delight !
Caution: hot peppers can cause allergic reactions. During the preparation of these jars , wear appropriate gloves and eye protection!
And you have the secret recipes typical of your family ?
If you want the super-secret recipe for making limoncello that there is more good , follow me here !
I party at: